Abby Land '19 earns Pulliam Internship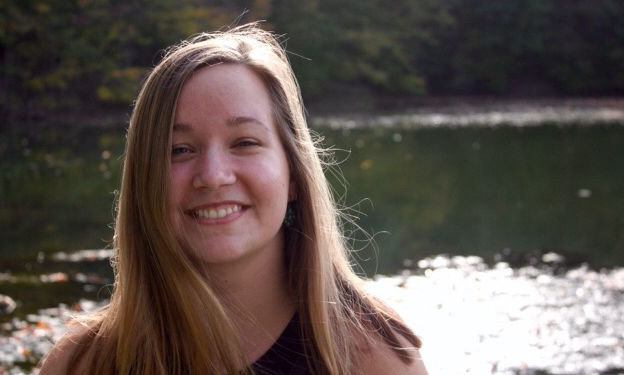 Abby Land, '19 (communication with journalism emphasis; international relations) recently was awarded a prestigious Eugene S. Pulliam Internship through the Hoosier State Press Association Foundation. University students statewide compete for the journalism internships, which are paid positions, 40 hours per week for ten weeks.  Land will serve her internship this summer at The Republic in Columbus, Indiana.
Q. What are your thoughts on winning the internship?
A. I was surprised to win the internship but very excited by the opportunity. As for specific goals, I am trying to go into it with an open mind. What I really hope to gain is just a better understanding of how journalism works in the field, outside of our campus. I think it's going to be very beneficial for me to work with people who make their living in journalism and get that real-world experience.
Q. How has the UIndy journalism program prepared you for the internship?
A. Before I came into the UIndy journalism program, I was just a good writer who wanted to tell stories. I wrote one way and was good at it, but I could only write that single style. I had no real understanding of journalism or how to do high-quality reporting when I decided to major in journalism. Being in the program has made me learn how to actually use my writing – how to change it and strengthen it under different circumstances to produce the best outcome. It also forced me to write about subjects I never would have pursued before, and I definitely expect that to come in handy at the internship.
Learn more about the University of Indianapolis journalism program
Q. Have there been any faculty, staff or fellow students who have helped or mentored you? Who are they and how did they help?
A. [University of Indianapolis Director of Journalism Program] Jeanne Criswell, of course, is the biggest supporter of every single journalist in the program. She genuinely thinks we're the best, even when we doubt ourselves. Also, the editorial staff of The Reflector are very close; we all help and support one another. That's one of my favorite things about journalism, and definitely my favorite thing about UIndy journalism – it's really a team atmosphere. Everyone is working towards a common purpose and helping each other to make sure the publication is the best it can be. It's not self-serving at all, and that's really special.
Q. Anything else you want to add about your UIndy experience so far?
A. I just really appreciate the personal attention that UIndy gives students. The people I've gotten to know here are really close to my heart. When there is an opportunity available or if I need help with something, no one ever hesitates to help or offer advice. I know that people here have my back and genuinely want to see me succeed, and I don't take that for granted.