University of Indianapolis announces new dean to lead the School of Education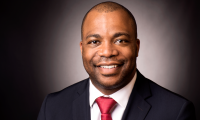 Dear UIndy Colleagues,
I am very pleased to announce that, after an extensive and competitive national search, John A. Kuykendall, III, Ph.D., will become the next Dean of the School of Education effective July 1, 2018.
Dr. Kuykendall is a tenured associate professor of education and the director for the School of Education at the University of Arkansas at Little Rock. In his administrative role at Little Rock, he oversees 27 undergraduate and graduate degree programs in teacher education and educational leadership. Before arriving at Little Rock, he was a faculty member at Marquette University in Milwaukee, where he oversaw the College of Student Affairs Program and taught graduate courses in higher education.

Dr. Kuykendall will lead the School of Education's dynamic undergraduate and graduate leading-edge programs that emphasize experiential learning and supportive, experienced faculty who pursue strong relationships with central Indiana schools. The University of Indianapolis Department of Teacher Education has been nationally recognized for its partnerships with local K-12 schools through the 2013 Model of Excellence Award in the Partnerships category from the national Association of Independent Liberal Arts Colleges for Teacher Education, and Dr. Kuykendall will further pursue those high standards of innovation.
Dr. Kuykendall's extensive academic qualifications, research background and broad experience in professional service made him the ideal candidate to grow the School of Education's programs and lead faculty as they prepare students for future career opportunities. His research areas address several of the most pressing concerns in higher education today: achieving college readiness for first-generation students, developing new models for college recruitment and retention, and how social class structures impact children's abilities to attend and be prepared for higher education. Dr. Kuykendall plans to continue these lines of scholarly inquiry and to seek external funding to support these important projects. He has numerous peer-reviewed research and scholarly paper presentations, published articles and chapters within books, including the 2017 publication, "Advancing Equity and Diversity in Student Affairs: A Festschrift in Honor of Melvin C. Terrell."
A native of Pine Bluff, Arkansas, Dr. Kuykendall began his baccalaureate studies at the University of Arkansas at Pine Bluff where he earned a Bachelor of Science in Biology Education. His master's studies took him to Christian Brothers University in Memphis, Tennessee, where he earned a Master of Science in Educational Leadership. John earned his Ph.D. from Indiana University in Higher Education Administration.
I am very appreciative to all the members of the search committee (see below) for their outstanding work in helping us find John. I would also like to express my gratitude to Dr. Colleen Mulholland, who has served as the Interim Dean since December 2016. Dr. Mulholland's visionary leadership as the Interim Dean has contributed to the quality and excellence that defines this institution. I am grateful for her accomplishments, and I wish her the very best as she continues her career at the University of Northern Iowa.
You will have the opportunity to meet Dr. Kuykendall in the coming weeks, including when he is formally introduced to the campus community on April 24, 2018, at the full faculty meeting. Please join me in congratulating Dr. John Kuykendall. I look forward to his leadership of the School of Education at the University.
Thank you,
Stephen H. Kolison, Jr., PhD
Executive Vice President and Provost
Search and Screen Committee Members:
Janet Boyle, Co-Chair
Travis Miller, Co-Chair
Rachael Aming-Attai
Lashun Aron
Jeff Butts, Wayne Township Schools
Terrence Harewood
Jean Lee
Mary Moore
Greta Pennell
Angelia Ridgway
Deb Sachs