Provost's Lecture: Reforming a Belizean prison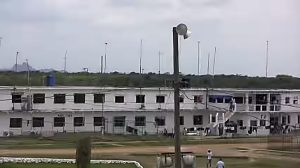 Belize Central Prison was intimidating at first for the UIndy student-researchers who visited in 2014, but even more students are signed up for a return trip in May.
Professors to recount student research project in Central America
Driving up to Belize Central Prison for the first time was a bit scary for 12 UIndy students and the professors guiding them.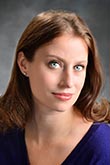 "There were inmates in orange jumpsuits cutting the grass with machetes," says Amanda Miller, associate professor of Sociology. "That was an eye-opening experience for me, at least."
But after three days of work in the heat and noise of the 1,500-inmate compound – the only correctional facility in the small Central American nation – the student researchers came away with enthusiasm, experience and more than 60 hours of recorded interviews with 36 prison employees and administrators. The result is an encouraging story about how a nonprofit organization, by most accounts, turned a squalid human warehouse into a professionally run institution focused on rehabilitation.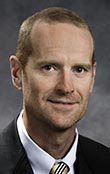 Miller and colleague Kevin Whiteacre, associate professor and chair of the Department of Sociology & Criminal Justice, will recount their research adventure on Feb. 16 for UIndy's seventh annual Provost's Lecture. Three Days in a Belizean Prison: Serendipity, Scholarship and Change will begin at 4:30 p.m. in the Christel DeHaan Fine Arts Center's Ruth Lilly Performance Hall. Admission is free, but registration is requested at provostlecture.eventbrite.com.
Whiteacre and Miller organized the project as a Spring Term trip in May 2014, and the challenge was accepted by 10 undergraduates and 2 grad students from various disciplines. Their goals were to capture an oral history from a unique place and time, learning interview techniques all the while, and also to survey the staff about changes that have taken place since 2002, when local Rotarians formed the nonprofit Kolbe Foundation and took over management from the central government. (A short documentary film on the transition is viewable at this link.)
Among the changes:
Mattresses and potable running water for the inmates, along with toilets to replace the five-gallon buckets they used previously
New rehabilitation programs that include vocational training, general education and a computer lab where inmates can hone marketable skills
Professional training for guards and other employees, some of whom are former inmates
A farm where inmates produce much of their own food, and a system that recycles waste into energy
An organized program of family visits.
Though the transition has sparked some controversy, the prison has seen a significant decline in violence and escapes, and it seems more effective in helping inmates return to productive lives once they are released, Whiteacre says.
"It's not about whether they should be punished or coddled," he says. "It's about whether or not you're running a professional institution."
And in a small country where people cross paths often, it's especially important for inmates to return to society with positive attitudes and opportunities to succeed.
"The staff would say, 'You need to be nice to the inmates, because you will see them again,'" Miller says.
Whiteacre and Miller are still analyzing data gathered during the project, and they also are organizing another Spring Term visit to Belize in May, planning to interview the prison's 30-plus female inmates about their experiences. So far, 15 students are already registered for the trip.
"You tend to get students who are very curious about how the world works," Whiteacre says.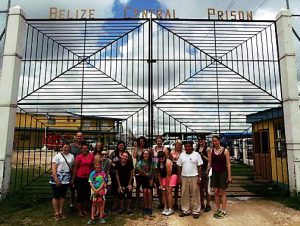 The UIndy contingent poses outside Belize Central Prison during its research trip.