Tosin Salau '18: Making connections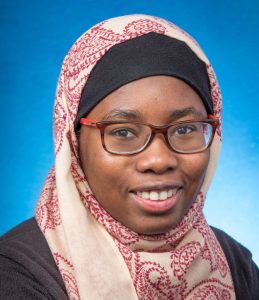 Tosin Salau '18 (international relations and political science) will provide the benediction for the May 5, 2018, Commencement Ceremony at the University of Indianapolis. An international student from Nigeria, Salau was involved in several campus organizations and professional opportunities that prepared her for the next steps in her career.
Q. What are your plans after graduation?
A. After graduation, I plan to work for a year and later further my studies by getting a master's degree in international relations.
Q. How did your program help prepare you for the next steps in your career?
A. Since my majors – international relations and political science – are closely related, the program has helped me in taking crucial steps towards my future career plans. Participating in the annual Midwest Model United Nations and European Union conference enhanced my diplomacy, communication and teamwork skills. Model simulations built my experience in foreign policy which further increased my interests in global affairs. The annual Midwest Political Science Conference enabled me build on my ability to examine and present my research work to professionals in the field. The department also regularly advertises job opportunities and internships that are available around the country which helped me score an internship in Indianapolis.
Q. What campus groups you were involved in? How did these activities enhance your experience at UIndy?
A. Throughout my time at UIndy, I was involved in various groups such as being an Equity and Inclusion ambassador as well as a Presidential Ambassador on campus. These groups enabled me to work closely with advisors on coordinating school events and promoting the positive image of the University. Through the Office of Equity and Inclusion, I worked with other students in organizing on-campus discussions relating to current events happening both locally and globally.
Other groups included the Muslim Student Union, Interfaith and the African Student Association which allowed me devote time to create a more diverse and inclusive campus at the university by bringing together and facilitating discussions between students of different backgrounds.
Q. Have there been any faculty, staff or students who mentored you during your UIndy career?
A. Dr. [Jyotika] Saksena in the International Relations department was my most influential mentor throughout my stay at UIndy. Dr. Saksena helped me go through the program requirements of the degree as well as explore various career options by always keeping me up to date with new job or internship postings. She never relented in pushing me to put myself out to try new things by telling me about her own experiences thus far.
D'ana Downing from the Professional Edge Center helped me navigate my career goals and interests by inspiring me to channel my career towards the areas I'm passionate about. She did this by going through different job applications with me and advising me on how to go forward with them.