Class of 2018 student speakers to explore theme of connections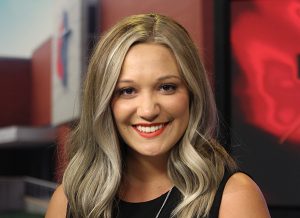 The University of Indianapolis Class of 2018 has chosen its speakers for May Commencement. Kaitlyn Kendall '18 (communication, with emphasis in electronic media) and Annie DeRolf '18 (doctorate of occupational therapy) will focus on making connections in their remarks.
"I am absolutely thrilled that I was chosen to speak on behalf of the undergraduate student body," Kendall said. "This has always been a dream of mine and the fact that I actually am getting to do this still seems unreal."

Watch a live stream of the Commencement ceremony at 11 a.m., May 5, 2018 on uindy.edu.

"I am incredibly honored to have been nominated and chosen by my peers to speak at Commencement. I hope that I can make the themes of connectedness, justice, and hope relevant to all areas of study," DeRolf added.

Kendall plans to work as a television news reporter and anchor in Fort Wayne, Ind. following graduation.
"Throughout my speech I will be focusing on the journey that the students have gone through and how this journey isn't over, but that it is just beginning. I also will be discussing how we all are now connected by one thing, and that UIndy is now a memory we all share together," she said.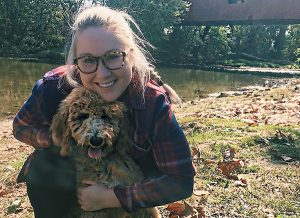 DeRolf plans to promote occupational therapy's role in providing affirmative and competent care for the transgender and gender non-conforming population. She said UIndy's faculty consistently supported her vision for future practice.
"The program effectively taught me the foundational knowledge of occupational therapy, while slowly introducing me to clinical experiences in a way that fostered self-efficacy and competence. I was placed in a variety of clinical practice settings, including acute care, inpatient and outpatient mental health, skilled nursing facilities, and Eskenazi's Transgender Health & Wellness Program," DeRolf explained.
Kendall pursued internships and on-campus activities that enhanced personal relationships and helped prepare her professionally. She is president of two student chapters on campus: the National Broadcasters Society and the President of the Society of Professional Journalists, and participated in TV5, student ambassadors, theatre, and the National Society of Leadership and Success.
"Every experience that I have had at UIndy has been beneficial to my future career. My internships have been phenomenal, and they've given me more opportunities than I thought possible. Every professor at UIndy has helped toward my future endeavors," Kendall said.
Both students point to faculty mentors who shaped their academic careers. DeRolf explained how Sally Wasmuth, an assistant professor of occupational therapy, helped her find her niche.
Wasmuth "was both receptive and excited regarding my desire to work with the transgender and gender non-conforming population, and she has gone above and beyond to ensure that I am able to fulfill this work," DeRolf explained.

Kendall said her mentors in the Department of Communication made an impact on her development. Steven Koehn, assistant professor of communication, "has shown me that it is okay to take risks and to fail," she said. "Another professor that sticks out in my mind is Prof. [Scott] Uecker. That man knows more people that I even knew existed! He alone has given me more opportunities that I can count," Kendall added.

DeRolf, who also participated in the Student Occupational Therapy Association, said she was grateful for the assistance of faculty such as Julie Bednarski, the Master of Occupational Therapy Program Director, who helped her grow a relationship with Eskenazi Health, where she spent the semester for her doctoral capstone experience. She also thanked her research advisor, Alison Nichols.
"Because of her direction, our research group had the opportunities to present at both the national and state occupational therapy association conferences. Her dedication to our group, as well as our beloved friendship, is nothing short of appreciated," DeRolf said.