Community partners, UIndy students honored at Community Campus Forum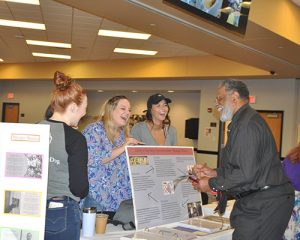 The Center for Service-Learning and Community Engagement held the Community Campus Forum on April 25, 2018, to honor community agency partners, along with faculty, staff and students, for the many ways they engaged in service, learning and teaching throughout this academic year.
Following an expo where students presented their service-learning projects to attendees, the Center hosted a luncheon and presented the Student Service-Learning and Outstanding Community Partner of the Year Awards.

"The Community Campus Forum not only acknowledges the remarkable achievements of University of Indianapolis students and community partners in the area of service-learning, but also highlights the University's critical mission to teach students lifelong skills of engagement that contribute to the quality of life in our neighborhoods," said Stephen Kolison, Jr, University of Indianapolis provost.

Honorees were as follows:
Service-Learning Graduate Student of the Year
Marlena Muszak '18 (M.A. in applied sociology)
Service-Learning Undergraduate Student of the Year
Samantha Beckwith '18 (marketing)
Justin Jones '18 (supply chain and operations)
Nicholas Southwood '18 (marketing)
Mallory Walker '18 (marketing)
Community Partner of the Year
Tim Evans
Alvie Lindsay
Indianapolis Star
Deborah Strickler
Southern Indiana Rehabilitation Hospital
Marcos Hashimoto,  associate professor of entrepreneurship in the School of Business, nominated four undergraduate students who received the Service-Learning Undergraduate Student of the Year Award.


"These students helped the #shesinvisible cause during my Marketing Simulation class as their applied project for the course. During the whole semester they interacted with the social entrepreneur Tina Polk to improve all the marketing material for the organization, including flyers, web page, social media posts and event organization," Hahimoto said.

Jim Pennell, professor of sociology, nominated Marlena Muszak, an international student from Poland. Pennell outlined Muszak's work with the Burmese American Community Institute, including fundraising, grant-writing and support for BACI's Upward College Program.
"Marlena has represented UIndy well in her commitment to service, and she is a shining example of our university's commitment to engaging international students in transformative ways," Pennell said.

Pennell acknowledged Marianna Foulkrod, director of the Center for Service-Learning and Engagement, "for her continuing leadership in engaging students and faculty with our community and vice versa."
Jeanne Criswell, director of the journalism program, thanked Tim Evans and Alvie Lindsay of The Indianapolis Star, who collaborated with her students for the newly conceived Investigative Reporting course on an investigative story about the Mayor's Action Center that was published by the newspaper under the students' bylines.

"Alvie and Tim served all semester as excellent editors, role models and mentors for this project while their day jobs as professional journalists never let up. They went above and beyond the call of duty in their commitment to the course," Criswell said.
Lindsay, who accepted the award on behalf of Tim Evans, said he was humbled and honored by the recognition. "I want to thank UIndy for having the journalism program and for understanding the need and value of this work. One of the things we wanted to impart on the students in class is that you do have the opportunity to make a difference," he said.

Julie Gahimer, professor of physical therapy nominated Deborah Strickler of the Southern Indiana Rehabilitation Hospital, for creating valuable opportunities for University of Indianapolis students at an annual summer camp for stroke survivors.
"We couldn't have done it without the help of physical therapy students for the last 14 or 15 years. They make a big difference," Strickler said.