BSA Celebration of Success embraces values of community and scholarship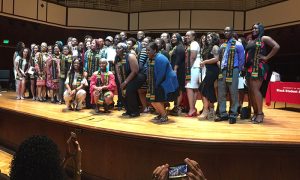 The cheers reverberated through Ruth Lilly Performance Hall even before students' names were called at the Black Student Association's 2018 Celebration of Success. The mood was jubilant at the second annual Celebration, one of several Senior Week events designed to highlight the achievements of outstanding graduates.
"The Black Student Association's Celebration of Success is an opportunity for the student organization to gather and rally around graduating African-American and African descent students to recognize their great accomplishment," explained Jennifer Smith, Special Assistant to the President, Black Student Association advisor and Celebration organizer.
Participation is open to all self-identified African and African-American University of Indianapolis undergraduate and graduate students who will earn their degrees in 2018. All participants received a Kente stole featuring a handwoven Ghanaian design to commemorate their graduation.
After hearing from students and alumni who had expressed interest in creating the event over the years, Smith made it her mission to make the Celebration a reality. She solicited support from internal and external resources to hold the first BSA Celebration of Success in 2017, which honored 25 students. This year, the event recognized more than twice that number of students, including undergraduate, graduate and School of Adult Learning graduates.

"This event requires significant time, commitment and funding, and I am thankful that the students see the value and continue to press forward to ensure the Celebration of Success remains a staple of the Black Student Association," Smith said. "We hope to continue the event for years to come."
"Jennifer not only brought the idea [for the Celebration] to the University but saw it through to fruition. It is truly something that's worthwhile and necessary," said Sean Huddleston, vice president of the Office of Equity & Inclusion.
BSA President Darin Sills '19 served as master of ceremonies. Lauren Rascoe '14 (visual communication design and experience design) delivered the keynote address, and Jabree Bond-Flournoy '18 (marketing) provided the Student of Success Inspirational Speech.
A four-year student athlete on the men's basketball team, Bond-Flournoy also served as public relations executive for the BSA, a representative for the School of Business Marketing Club and a member of the Alpha Phi Alpha fraternity. A student business leadership internship last summer with GEICO Insurance in Carmel, Ind. led to a job offer in the Management Development Program with the Sales Department.

"I firmly believe it takes a village to raise a family. My village at the University of Indianapolis was shaped by some of the most inspirational people on this earth," said Bond-Flournoy, noting the guidance of on-campus mentors such as Corey Wilson and Kirk Bryans in the Professional Edge Center and his basketball coaches, including head coach Stan Gouard.
Lauren Rascoe, who serves as the Miss Black and Gold pageant coordinator for Alpha Phi Alpha fraternity, shared ten life lessons with graduates. The first piece of advice on her list:

"You don't know everything. Life has so much more to offer you and there's so much more to discover. Take advantage of that!" she said.
Learn more about the BSA and other student organizations at the University of Indianapolis.