University of Indianapolis student selected for 500 Festival Princess Program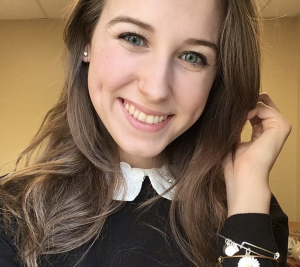 Lauren Bryant '18 (biology and psychology) will be among 33 women representing the 500 Festival Princess Program for 2018. Bryant is an Honors College student and Greenfield native who will attend Indiana University School of Medicine in fall 2018.

"I am so thrilled and honored to be selected with 32 other amazing young women to help the 500 Festival accomplish their yearly mission – to celebrate the spirit and legacy of the Indianapolis 500 and to enrich lives," Bryant said.
The 500 Festival Princess Program, presented by Reis-Nichols, has a long history of celebrating Indiana's most civic-minded, academically driven young women. Serving as a 500 Festival Princess provides participants with countless opportunities for leadership and professional development. Bryant said she's eager to spread her passion for her hometown and state through service on a wider scale than ever before.

"From teaching students the basics of physics with toy race cars, to volunteering at charity events with my 32 new sisters, to spending time reminiscing on the long history of the Indy 500 with nursing home residents, the 500 Festival Princess Program has connected me to Hoosiers from all walks of life," Bryant added.
Bryant's ultimate career goal is to start her own child and adolescent psychiatry practice. She enjoys working in the hospital environment and volunteers at Franciscan Health Indianapolis in her spare time.

As part of the program, Bryant will receive a $1,000 scholarship, made possible by Marlyne Sexton, an Indianapolis philanthropist and president of The Sexton Companies, and the 500 Festival Foundation. Bryant is already noting the benefits of the 500 Festival Leadership Development Program, presented by BKD.

Related: 2018 Princesses Set 60-year Program Record For Highest GPA
"I've met professionals in all sectors who have taught the princesses skills in Leadership Development sessions and offered themselves as contacts for our future careers. Most of all, I am thankful to the program for introducing me to the other princesses, all of whom are generous, intelligent, vibrant women I now have the pleasure of calling my friends," Bryant said.
The 2018 500 Festival Princesses represent 14 Indiana colleges and universities and 21 cities and towns across the state. With a cumulative GPA of 3.72, this year's 500 Festival princesses were selected from hundreds of applicants based on communication skills, academic performance and community involvement.

The 2018 500 Festival Queen Scholar will be announced on May 19 during the 500 Festival Breakfast at the Brickyard, presented by Midwestern Engineers, Inc. The Queen Scholar will receive an additional $1,500 scholarship.

Learn more about how Honors College prepared Lauren for IU School of Medicine