Volunteerism lays groundwork for teaching career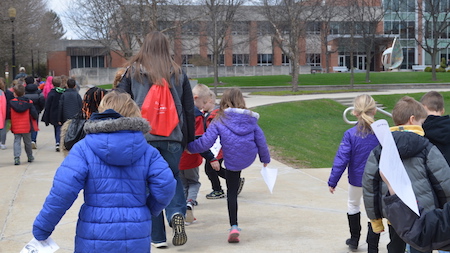 You never know when saying 'yes' to a volunteer opportunity on a whim can help determine what you'll do with the rest of your life.
Erika Hoffmann '21 (elementary education, with concentrations in mild intervention and reading) started volunteering at Creekside Elementary School in 2016, when she was a senior at Franklin Community High School.
At the time, she had no intention of becoming a teacher, but after a few months working with the kids, she discovered how much she enjoyed helping them learn and grow.
"I was at Creekside every single day for a few hours," she said. "One of my main goals in life is to help others, and I realized that the classroom is where I am most comfortable and where I feel like I am changing lives."
Follow the UIndy School of Education on Facebook
"It's those little moments when a kid has been struggling with something and then you explain it in a different way and their face just lights up because they finally understand it – that's when I know I'm doing something right."
When Hoffman transitioned to the University of Indianapolis, her previous volunteer experience and strong relationships at Creekside continued to pay off: she was invited by Sarah Records, a first grade teacher at Creekside, to come back and see how the beginning of the year works from a teacher's standpoint.
"Student teachers usually come into a classroom that is already running, rules are in place, and expectations are set," Records said. "You don't get to see how all of that is created or built, so for her to be with me on day one and see how those routines are established was really good for her."
Hoffman is in the classroom with Records about three days each week, leading small group instructions, pulling kids for remedial help, aiding in testing sessions, and building relationships with the kids.
"I'm only a freshman and have taken just a few elementary education classes," she said. "I truly feel that I have gained most of my knowledge and experience from being in Creekside on a regular basis. The hands-on experience is giving me the best opportunity to learn."
Hoffman's networking skills are also creating new opportunities for partnerships between the University's School of Education and local schools. At Hoffman's suggestion, Records brought a group of 105 first-graders to campus for a tour in April 2018.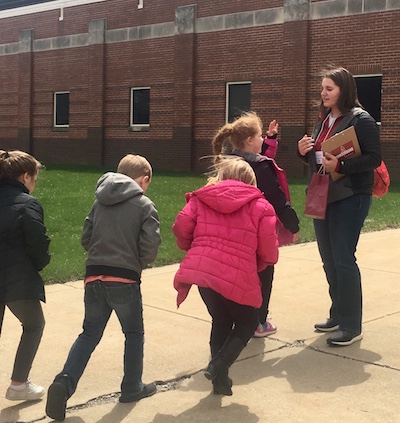 Kids from Records' class leapt off the school bus and threw themselves into Hoffman's arms, vying for her attention and shouting excitedly while she tried to instill order on the squirming mass of students.
The kids were divided into three groups, each led by education students, including Hoffman. They visited the Krannert Memorial Library, the Schwitzer Student Center, and an elementary education class, where they participated in an activity with future educators and gave their opinions of what makes a good teacher.
"Getting children acquainted with the idea of attending college gives them a goal and something to look forward to after high school. It gives them a 'when I go to college' not 'if I go to college' mentality," Hoffman said.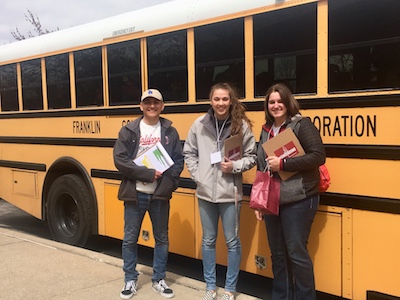 Records says she's already started thinking about how to make the trip even better next year.
"Given what I saw from the students selected to lead us, and with the interaction and communication I have had with [UIndy faculty], I would love to continue working with UIndy and its education department."
She's also excited to continue mentoring Hoffman toward a career as a teacher.
"Erika has such a big heart and really cares about the kids both in and out of the classroom.  These skills are the basis of being a good teacher – investing in kids, building relationships, and nurturing them to be better versions of themselves.  I have no doubt that Erika will make a great teacher one day!"
Learn more about School of Education programs at the University of Indianapolis.