Women's golf captures second-ever national championship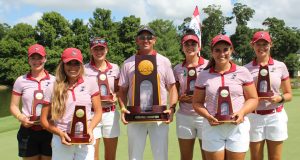 HOUSTON – The UIndy women's golf team finished off an impressive stay at the 2018 NCAA Division II Championships Saturday, running away with the national title with a staggering 38-stroke win. The Greyhounds combined for a 72-hole score of 1,157 (+5), matching the tournament record for lowest team tally. In addition, the wire-to-wire victory at the four-day tournament, held at Bay Oaks Country Club in Houston, Texas, was punctuated by an individual national championship from junior Katharina Keilich (-1).
The result marks the second time in four years that the Greyhounds have hoisted the DII trophy. In 2015, UIndy became the first non-Florida school to capture the DII women's golf crown, and this year they join the ranks of only four other teams to have won multiple titles.
The program also had one previous individual national champion, though it did not come in 2015. Former UIndy All-American Lyndsay McBride took the national medal in 2009 and is now joined by Keilich. The Wetzlar, Germany native finished at one-under par for the tournament, carding scores of 71-71-72-73.
Under the leadership of Head Coach Brent Nicoson, the Greyhounds have now finished in the top five at each of the last five DII Championships, with seniors Paxton DeHaven and Annika Haynes appearing in the lineup on four of those occasions. Saturday's win brings their careers full circle, as they were both freshmen on the Hounds' aforementioned 2015 championship team.
Sophomore Pilar Echeverria (76-75-72-69) vaulted into a share of second with a final-round 69, matching the second-lowest single-round score of the entire tournament. Senior Kylie Raines (70-71-77-74), who played her final collegiate round Saturday, secured fourth place with a strong finish. DeHaven (72-70-73-80) capped her career with a seventh-place showing, while Haynes (73-79-78-74) carded a two-over 74 in her last college round to tie for 27th.
The year's final tournament also brought about the solidification of a number of program records. This group has now set new single-season marks for team scoring average (293.5) and winning percentage (.950). Echeverria also broke her own school record for lowest single-season average at 73.3 strokes per round.
Written by Ryan Thorpe, Associate A.D. for Communications, University of Indianapolis.