University of Indianapolis statement on the passing of Maestro Raymond Leppard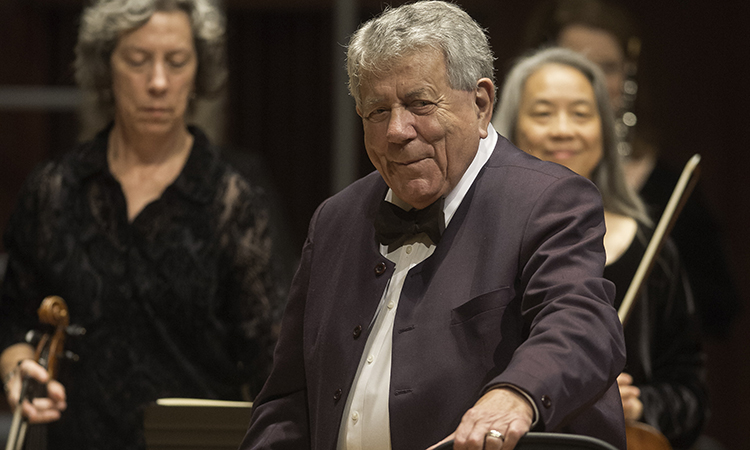 It is with deep sadness that we acknowledge the death of Maestro Raymond Leppard, one of the most respected international conductors of our time and artist-in-residence at the University of Indianapolis.
"Raymond Leppard was a kind and generous artist who used his remarkable talent to bring world-class musical experiences to students, faculty and staff, as well as to communities throughout the Indianapolis region. Through his legacy, the University of Indianapolis celebrates the shared values of artistic exploration, professional growth and a dedication to creating unique learning environments that prepare students for a lifetime of success," said University of Indianapolis President Robert L. Manuel.
"The University of Indianapolis Department of Music was privileged to collaborate with Maestro Leppard for a quarter-century, and generations of students—as well as faculty and the University community—were touched and inspired through the generosity of Maestro Leppard's contributions. He will be remembered with great fondness and we mourn his passing with the wider musical community," said Elisabeth Honn Hoegberg, associate professor and chair of the University of Indianapolis Department of Music.
Maestro Leppard spent 25 seasons as the University of Indianapolis artist-in-residence. He received an honorary degree from the University in 1991 and an honorary alumni award in 2014. During his career at the University of Indianapolis, he conducted ensembles and held performances that showcased his talents as a pianist, harpsichordist, lecturer, composer and arranger. In 2017, the University celebrated Maestro Leppard's 90th birthday with a special on-campus performance before a standing-room-only audience.
The Conductor Laureate of the Indianapolis Symphony Orchestra, Maestro Leppard has appeared with nearly all the world's leading orchestras in more than 60 years on the podium, conducting more than 170 recordings and earning five Grammy awards, among many other accomplishments.
"Maestro Leppard's popular opening concerts at Ruth Lilly Performance Hall often featured a substantial work for choir, soloists and orchestra such as the Schubert G-Major Mass (one of his personal favorites), Mozart Vespers, or Haydn St. Nicholas Mass," said Richard Ratliff, professor of music. "Raymond grew very fond of his annual evenings on Hanna Avenue (as he called them) in recent years."
During his concert in September 2018, Maestro Leppard led a memorable performance of his new song cycle "Summoned for Love" and a touching "Ave verum corpus" of Mozart to conclude, followed by a prolonged ovation.
Statement from the Indianapolis Quartet:
Raymond Leppard—eminent musician, conductor, composer, author, and friend—was a major inspiration and champion for the formation and sustained health of The Indianapolis Quartet. We thank him from the bottom of our hearts for his mentorship during the first years our quartet has been together. Raymond was always available to us for tutoring, a delightful discussion around his table with tasty morsels, an obligatory glass (or three) of an elegant wine from his cellar, or a rousing conversation with his steadfast partner, Jack. We all especially loved our time together with Haydn and Beethoven quartets; his ideas were always very insightful, and spot on.
When the Quartet gave its inaugural performance at UIndy in 2016, Raymond was there, even though he was having a difficult time getting around. We fondly remember him coming backstage, Jack pushing him in his chair, to congratulate and talk with us. We were still unnamed at the time, and he teased us about that, as only Raymond could do, with a nimble-witted twinkle in his eyes. We asked him, now that he had heard us in performance for the first time, what he thought we should name ourselves. With a wry smile, he said "Well! There is a Cleveland Quartet, I see no reason why there should not be an Indianapolis Quartet!" For the fact of that naming, we consider Raymond Leppard as the "father" of our quartet.
Raymond was a lion for the City of Indianapolis, and specifically its arts scene. We will always be grateful that he worked to frame Indianapolis as a cultural community with the ability to sustain a resident quartet. He yearned for an ensemble like ours to nourish this particular niche in our community. That was his vision for us, and for Indianapolis. We will always strive to fulfill his vision, and to be worthy of the moniker of "Raymond's Quartet."
With love and affection,
The Indianapolis Quartet:
Zach DePue
Joana Genova
Michael Isaac Strauss
Austin Huntington