Paul Washington-Lacey Emerging Leaders program urges students to pay it forward with newfound skills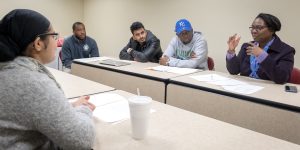 A new program at the University of Indianapolis provides students with the opportunity to recognize and grow their leadership qualities as they develop professional skills. Through a series of workshops, students participating in the Paul Washington-Lacey Emerging Leaders Program focus on career readiness, academic excellence, personal growth and leadership development. Launched in Fall 2017 by the Office of Inclusion & Equity (OIE), the program continues the spirit of mentorship and community championed by the late UIndy employee Paul Washington-Lacey.
Larry Haynes '18 (M.A., mental health counseling), OIE programming intern and coordinator for the OIE Ambassador Program, coordinated the skills workshops, which were conducted by faculty and staff. Students in the program, who are nominated by the campus community and invited to join by Sean Huddleston, vice president for inclusion & equity, were paired with faculty, staff and alumni mentors.
"Research has consistently shown how valuable mentoring relationships are for students' development, so this is an integral part of the program," Haynes explained.
Huddleston said it was encouraging to see so many faculty and staff stepping up to become mentors.
"They do it because of the legacy of Paul Washington-Lacey and to honor his memory. They also do it because they know what it represents. Their commitment to student success and willingness to give up their time to spend with students one on one to coach them, outside their job responsibilities – they're doing it because they're committed to these students. That makes UIndy a very special place," Huddleston said.
Armanii Hartfield '20 (human biology) said she's developed communication and other useful skills through the program.
"I've discovered that I am very open to a lot of things," Hartfield said. "This program has helped me tremendously in personal growth, mainly because it has made me wiser. It has helped me see things in a whole new light."
The workshops focused on developing students' self-awareness about their own leadership qualities as well as how others perceive them, and how to implement specific professional skills. During one workshop, Anita Thomas, dean of the College of Applied Behavioral Sciences, advised the group, "I want you to figure out what your passions are, because your personal growth is really all about understanding your passion areas, and keeping those aligned with your professional development."
"I really liked our workshop with Dr. Thomas because it showed the significance of being able to say no to a person when you don't have time to do something. That's something that's really helped me a lot because I'm starting to say no to things that are not on my priority list," said Jaskirat Kaur '21 (biology and psychology, pre-med concentration).
In another workshop, Huddleston asked students to identify someone in their lives they would define as a leader.
"Everybody pointed to someone in their family who didn't necessarily hold a title as a leader, but they talked about the attributes these people demonstrated," Huddleston said.

Recognizing leadership qualities in themselves and others is an important part of the program. For Kaur, the idea of paying it forward – starting with her own family – is already part of her philosophy. She mentors her younger cousins and is eager to impart the knowledge she gained through the program.
"Being a role model, I feel like I should share my experiences," she explained.
Haynes said the program is a testament to Paul Washington-Lacey's legacy of going above and beyond the call of duty to mentor students.
"As a community, we have to support each other's development. Students need mentors and this program seeks to deliver that while teaching students skills that will serve them long after they leave this university," Haynes said.
Written by Sara Galer, Senior Communications Specialist, University of Indianapolis. Contact newsdesk@uindy.edu with your campus news.