Hounds play host to Riley & Andrew Luck #ChangeThePlay Camp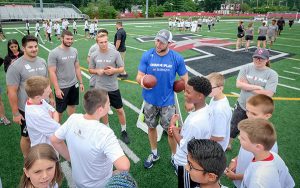 INDIANAPOLIS – Riley Hospital for Children at IU Health and the Indianapolis Colts' Andrew Luck descended on Key Stadium Wednesday morning, for their annual Change The Play camp.
"Being able to work and have fun with these kids while also encouraging them to lead a healthy lifestyle was such a fulfilling experience," Katie Voelz, SAAC President and UIndy volleyball student-athlete said. "Andrew Luck has established an incredible movement with the Change The Play camps and I am truly honored to be a part of it."
With the help of Indianapolis Colts Quarterback Andrew Luck, Riley hosts several camps throughout Indiana throughout the summer. The camps encourage kids be active, and also to have fun while learning to make good choices when it comes to food, exercise and their well being. In addition to Luck and Riley staff, Greyhound student-athletes from volleyball, football, wrestling, cross country, women's basketball, women's soccer, softball and baseball served as camp counselors, leading two large groups of local children through various activities and fun exercises.  Camp stations included yoga, football catching, ladder running and a nutrition sorting activity among others.
"A big part of being a college student-athlete is giving back to our community," SAAC Vice President Alex Algee of UIndy football said. "I always looked up to older kids when I was around these kids' age, so it is important to me to be someone they can look up to and have a good time with. Giving the kids a healthy outlook on life is important at an early stage so that it becomes habit for them and they can live a healthy lifestyle."
The UIndy site was one of three Change The Play camps this summer, with events also held in Evansville and Fort Wayne. This is the third year that UIndy Athletics has supported the event through student-athlete volunteers, and the first year the Greyhounds have played host to the event.
Story by Jackie Paquette, Associate AD for Student Support & Community Engagement