Greyhounds excel at Model United Nations Conference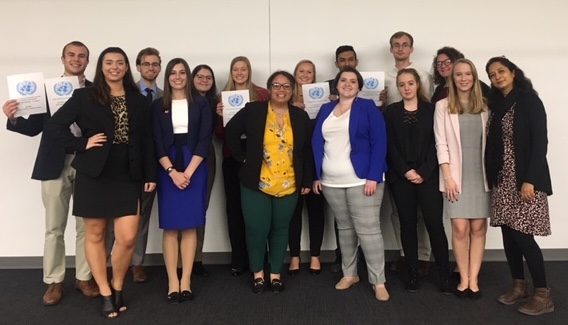 Please congratulate the University of Indianapolis team participants in the Model United Nations Conference held at the University of Indianapolis, November 7-9, 2019. The Model UN event is a simulation exercise organized by the Indiana Consortium for International Programs. Universities from Indiana and Kentucky participated this year.
Students from the Department of History and Political Science majoring in international relations and political science turned in an exceptionally strong performance and won several awards.
Congratulations to UIndy's delegation:
Council #1 –
Chair, Claire Green
Jackson Burkmire and Rashed Aljaloud representing Russia
Alexandra Nickerson and Mikaela Peters representing Kuwait
Council #2 –
Chair, Emma Kieffer
Danielle Merlo and Jacob Monday representing UK
Jordan Fisher and Katrina Hopkins representing Belgium
Council# 3 –
Erin Smith representing China
Axel Karl Saved representing Germany
Karlee Taylor and Sophia Yilmaz representing Peru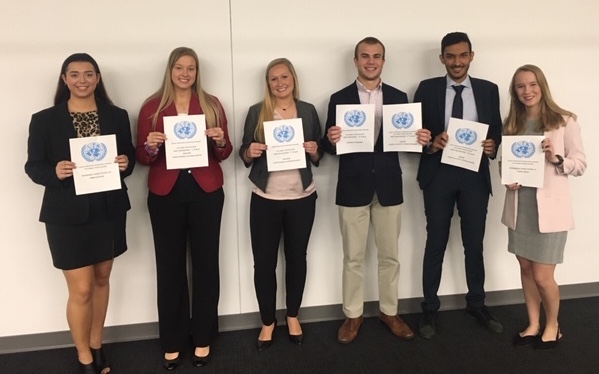 Delegation Awards:
Best Delegation: Jordan Fisher & Katrina Hopkins representing Belgium (Council 2)
2nd Best Delegation: Jackson Burkmire & Rashed Aljaloud representing Russia (Council 1)
Delegate Award: 
2nd Best Delegate: Jackson Burkmire representing Russia (Council 1) out of approximately 30 delegates