UIndy alum's opera project pays tribute to veterans on national stage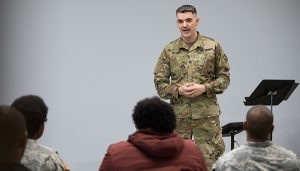 Joining the Army might sound like an unusual route to become an opera producer, but for Staff Sergeant Ben Hilgert '04 (music), it turned out to be the opportunity of a lifetime.
Eight years ago, SSG Hilgert made the decision to serve in the United States Army Field Band, the touring "musical ambassadors" for the U.S. Army. With more than 70 members, the Field Band performs more than 400 concerts a year and travels thousands of miles to perform in the U.S. and abroad.
"It's a really fantastic opportunity to move people. As artists we look for ways we can express our artistic intentions. By far the biggest impact I could have ever imagined is singing for millions of people every year representing something so much bigger than the sum of its parts," Hilgert said.
The band and its affiliated groups perform mainly for civilians – contrary to the misconception that military service members are the only audience, Hilgert said.
"Pretty much everybody thinks we perform for service members and tour bases. We actually do very little of that," he explained. "Our mission is to engage the American public to bridge the civilian-military gap."
Fewer than 10 percent of the U.S. adult population have served in the Armed Forces, according to Pew Research Center. "A big concern among military leadership is that American citizens are at great risk of becoming out of touch with what it means to serve in the Armed Forces," Hilgert said.


Following his graduation from the music program at the University of Indianapolis, SSG Hilgert brought his passion for opera to the Soldiers' Chorus, a vocal complement of the U.S. Army Field Band, with performances ranging from opera to musical theatre. He produced opera scenes for several years, including concerts at the Kennedy Center in Washington D.C. But he felt compelled to do something more – and when a new commander challenged him to align his work more closely with the band's mission, he was ready.
After attending an opera conference, SSG Hilgert realized the U.S. Army Field Band was in a prime position to reach new audiences – people who enjoy operas, but who may not know much about the Army. Bringing the Army story to the American public and honoring veterans was Hilgert's inspiration for producing the opera, "The Falling and the Rising," based on interviews with dozens of Army veterans.


"We've got an opportunity to tell the Army's story, literally – that's why I proposed the project," he explained. His goal? "Find soldiers' stories, turn them into an opera, collaborate with opera companies and make this something that is bigger than our organization."
SSG Hilgert worked with librettist Jerre Dye and composer Zach Redler to interview 36 soldiers, including some at Walter Reed National Military Medical Center, the Old Guard at Arlington National Cemetery and U.S. Cyber Command at Fort Meade.

The time he spent talking to soldiers "were three of the most moving days of my life. They reshaped my perspective on the Army, service, and being an ambassador for soldiers," he said.
His first interviewee was a young veteran recovering from a traumatic brain injury that had stolen his memories of high school and his ability to speak, which he was working to regain. Despite his tremendous challenges, SSG Hilgert said the veteran had an impressive perspective on life.
"He shared with us this beautiful story of service, recovery and resilience. Just one of many jaw-dropping, inspiring stories we were privileged to hear," he explained.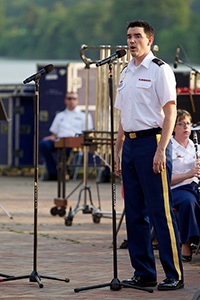 That story helped to form the central theme of "The Falling and the Rising," which has been received enthusiastically across the country since a world premiere at Texas Christian University in April. Other productions include Seattle Opera, San Diego Opera, Arizona Opera, Opera Memphis, and Seagle Music Colony.
SSG Hilgert credits his musical education at UIndy with helping him pass the audition for the U.S. Army Field Band and setting him up with career opportunities.
"I would not have [my current job] if I had not carried [Professor of Music] Paul Krasnovsky's choral experience with me and his work ethic – the diligence he approaches every piece with. It set the tone for how I approach music," Hilgert said.
"As a singer I'd be nowhere without my voice teachers. Steve Enzinger and Kathy Hacker both put me on a great path forward. They gave me a solid foundation of technique and nurtured my curiosity for the human voice. They have a special place in my journey."
He also appreciates the mentorship he received from Charlotte Templin, professor of English, who helped him with his junior recital.

"She gave me the time and really was an early mentor, somebody who opened a door that I didn't even know was there. It makes you aware of possibilities greater than you understood," Hilgert said.
Upcoming performances of "The Falling and the Rising"
Seagle Music Colony in upstate New York is next to perform "The Falling and the Rising." Their production is scheduled to tour the state in September and October. The US Army Field Band is planning on a performance sponsored by Opera Memphis in New York City in conjunction with the Opera America New Works Forum in January 2019. Peabody Conservatory at Johns Hopkins University has a production scheduled for February in Baltimore. Opera Memphis will have its own production in April in Memphis, Tenn.

Follow the U.S. Army Field Band here.
Written by Sara Galer, University of Indianapolis senior communications specialist. Send your story ideas to newsdesk@uindy.edu.