Social practice art year-in-review: Aug. 3-17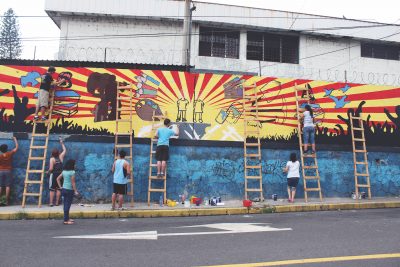 The University of Indianapolis is celebrating the work of the first cohort in the Social Practice Art master's program with a retrospective event beginning Friday, August 3 at the Efroymson Gallery at Tube Factory Artspace.
The cohort has completed socially engaged work in many of Indianapolis' neighborhoods, as well as South Bend, Lafayette and Union City, Ind., Cincinnati, Ohio and Buchanan, Mich.
The retrospective will include work from throughout the program, and many components of the show will include interactive elements like listening stations, mural designs, jacket designs and wearable art.
"We've had an amazing year," said Kevin McKelvey, program director and founder. "We've brought together artists from many different creative backgrounds to implement socially engaged art and placemaking in Indianapolis and in small towns. We look forward to creating the same impact with our second cohort in 2018-2019."
What: Masters Retrospective: Social Practice and Placemaking
When: August 3-17
Opening Reception: August 3, 6-10 pm
Closing Reception: August 17, 5-7 pm
Where: Efroymson Gallery at Tube Factory Artspace (1125 Cruft St., Indianapolis, In 46203)
The event is free to attend & open during regular Tube Factory Artspace hours
Students will be available during the opening reception to guide visitors through the interactive parts of their installations. The gallery show will feature thesis projects as well as the students' work in rural placemaking in Union City, Ind., with support from the Efroymson Family Fund, and in movement and dance in Garfield Park with choreographer Rebecca Pappas. A few examples include:
Lauren Ditchley's "In Place," a series of pop-up events that create space for community connection through social exchange. Pretzel / Pencil / Picture, a self-guided walking tour, celebrates the public library and pretzel shop in Ditchley's own Midtown neighborhood.
"Arranged Encounters" began in May 2018 as Linnea Gartin's thesis work. The project records and archives stories of women in the Midwest experiencing contemporary society. Through podcast episodes and a curated exhibition of artifacts from the interview experience, the goal is to expose the common woman's wisdom, story and perspective on the world.
"Queer Between Coasts" by Emma Landwerlen is an ongoing project and digital archive exploring the lives of LGBTQ people in the Midwest and what it means to be queer in the heartland today.
During the closing reception on August 17, students will conduct their own graduation ceremony to celebrate the end of their exciting year of work. Many students in the program were supported with a scholarship from the Efroymson Family Fund.
About the program
The Master of Arts in Social Practice Art is a one-year program with courses in social practice, placemaking, social entrepreneurship, and writing for nonprofits. The cohort brings together the talents of costume designers, photographers, painters, and other artists to create work of lasting impact that involves and engages the community. Many courses involve hands-on, immersive work in local places that have connected students to professional opportunities. UIndy welcomes its second cohort in fall 2018.