Honoring Coach Vaught's coaching career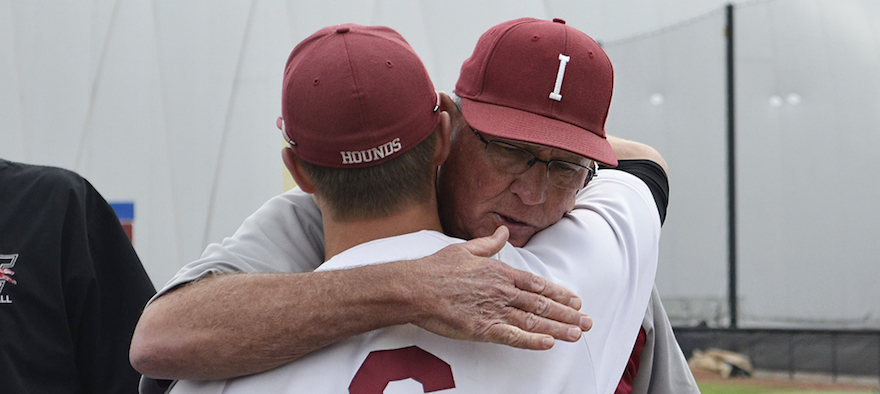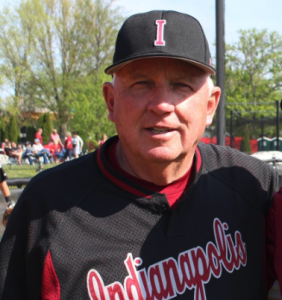 After 24 years of service to the University of Indianapolis as the head coach of the baseball program, Gary Vaught is retiring as the most-winningest coach in Greyhound history. Vaught resigns from his post with 808 career victories, two trips to the NCAA Division II Championships, and two GLVC tournament titles.
A two-time conference Coach of the Year, Vaught had 118 players be named to the all-GLVC list in his 24 seasons, including four Freshmen of the Year, two Pitchers of the Year, and two GLVC Scholar-Athletes of the Year. The Greyhounds picked up two victories in the team's first NCAA DII Championship in appearance in 2000.
"Everyone talks about family, but it really is a family here," Vaught began, when asked what it meant to be the head coach here for 24 years.
Related: A Thank You to Coach Vaught
Vaught wanted to thank more people than he could remember, but talked about the day he was interviewed, citing the elements as a possible deterrent from leaving the state of Oklahoma.
"Dr. David Huffman and Dr. Kenneth Borden were on the committee when they hired me, and they truly made me feel at home from the beginning. It was the greatest decision of my coaching career to come here.
"I've been blessed with a ton of stops in my career. If you stay somewhere for 24 years, you develop memories and friendships. Dr. Sue Willey has been more than a tremendous athletics director; she's been a great friend.
"Scott Young was my right-hand man when I began 24 years ago. He was not only a great assistant coach, but he's become such an amazing administrator and great leader for this university."
Related: You're Invited to Coach Vaught's Retirement Reception, August 21
It is not the game Vaught is going to miss, at least not the most. It is the relationships that were planted, blossomed, and bloomed after this long that makes him forever grateful and humbled for this opportunity.
"The game is going to be there. I'm going to miss the fellowship I have here. The number one thing is that our coaches and young people here understand is that you have people who will not only bond with you through the good times, but through the bad times, as well. We win together and we lose together."
Not only is Vaught going to miss UIndy, the university and athletics department is going to be hard-pressed to find another person like him.
"Coach Vaught has been a tremendous leader within our department, as well as his service to numerous conference, regional, and national committees during his time here," Vice President of Intercollegiate Athletics Sue Willey said of the long-time head coach.
"As hard as it is for me to see him retire, it has less to do with as a baseball coach and more to do with a kind and giving man that I am blessed to call my friend," Willey continued.
Vaught has been integral in growing the community atmosphere that exists at UIndy. Willey continued: "Whenever someone is in need or is suffering, Gary is the first one to do something about it."
Vaught wanted to emphasize his gratefulness to his coaching staff, including Associate Head Coach Al Ready, who also played for him for two seasons in the early 2000s.
"Al has not only been a great coach and great friend, he's been extremely loyal to me and our family here. He will make a tremendous head coach when his time comes."
The Norman, Okla. native spoke of the university as his home and has plans to give back in whatever way he can.
"The memories I have here will go on and on and on. It gave my son a chance to earn a degree here, all the players who come back to visit, it made it a great place to work.
"It truly is a special place."
Willey focused on Vaught's work ethic and dedication that comes with 24 years of service to a university, which included his adjustments to not on the game of baseball, but helping to mold young men that attended UIndy.
"We will miss Coach Vaught, and we wish he and his wife Anne the very best in retirement. It is my hope that he will stay connected with UIndy Athletics for many more years to come."
Thank you Gary Vaught for everything you have done for the University of Indianapolis.
Written by Cody Wainscott, Sports Information Director, University of Indianapolis