Rhonda Wolverton continues work to support immigrants to central Indiana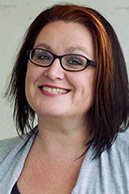 Rhonda Wolverton, assistant professor of art & design, spoke at the "Voices of Healing From Our Immigrant Neighbors" event in November at the Indiana Interchurch Center in Indianapolis. She also exhibited "Building Barrios not Barriers," an installation that is part of her work to subvert known language and American symbols of immigration to create dialogue and to share real immigration experiences.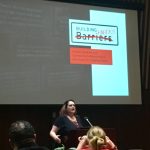 The event included dinner, stories and a panel discussion centered around immigrant healing and was sponsored by the Interfaith Coalition for Mental Health in conjunction with the Coalition for Our Immigrant Neighbors (COIN) and NAMI Indiana (National Association of Mental Health).