Phylis Lan Lin receives Meritorious Award upon her retirement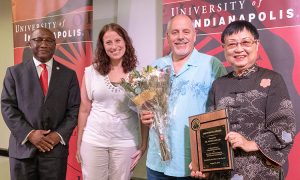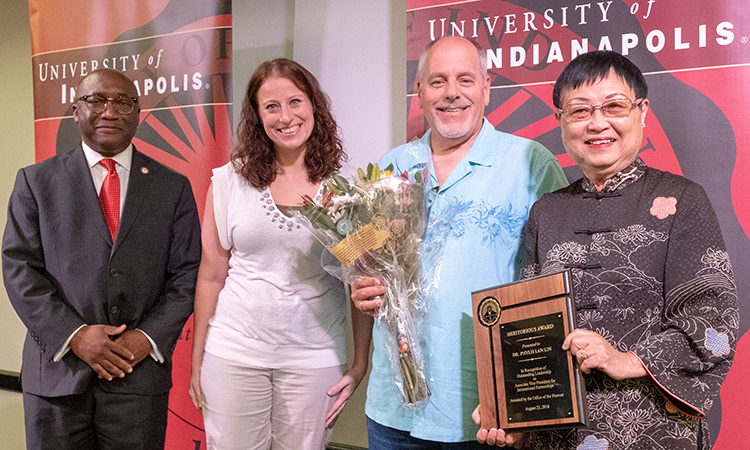 Phylis Lan Lin, associate vice president for international partnerships, was honored with the Meritorious Award by the Office of the Provost during the 2018 Faculty-Staff Institute luncheon for  her outstanding leadership during 45 years of service to the University. Dr. Lin retires Aug. 31 and will assume the title of professor emerita.
Dr. Lin has published or edited more than 30 books in Chinese and English on topics ranging from medical sociology, marriage and the family, stress management, service-learning and organizational behavior. Her servant leadership, passion for teaching and dedication to students have made her a beloved member of the UIndy family.
"Her accomplishments and contributions to the University of Indianapolis are too many to mention," said Stephen Kolison, Jr., executive vice president and provost. "She is a prolific scholar and a great mentor to young faculty. For 45 years, she has dedicated her talent and knowledge to the advancement of this University."
Dr. Lin was recognized at both the Zhejiang Yuexiu Foreign Languages University (ZYU) and Ningbo Institute of Technology (NIT) 2018 commencements for outstanding service.
As she closes the long and remarkable UIndy chapter of her career, Dr. Lin is starting several exciting new opportunities that reflect her commitment to building international relationships. At the Chinese American Museum in Washington, D.C., Dr. Lin serves as the chair of the Academic Advisory Board that is designing a scholarship program for students. The museum is slated to open in phases during 2019 and 2020, with a gala planned for November 2018.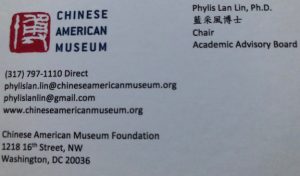 "The Chinese American Museum is a mission-driven project that will become a reservoir for Chinese-American culture," Dr. Lin explained. "We're promoting the concept of how we can work with all races and nationalities and together build a good country. The more we include other people of different backgrounds, the richer we become. Diversification is a power in itself."
Dr. Lin noted that while she hadn't planned on these opportunities, she decided to embark on a new journey when the offers began pouring in after her retirement announcement. She will also serve as the honorary president of the Everbright Academy of Film Arts in Ningbo, China, and as Director of the Center for Research and Planning at Assumption University in Bangkok, Thailand. She will continue teaching an applied sociology course at the graduate level as a part-time adjunct professor at the University of Indianapolis.
"After retirement, my base remains in Indianapolis, albeit my international and national engagements, so I can be a frequent visitor to UIndy," she said.
Remarkable legacy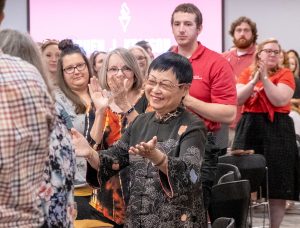 Dr. Lin joined the University faculty in 1973 with a passion for enhancing diversity and internationalization on campus. Her many responsibilities have included serving as executive director of the University of Indianapolis Press, director of Asian Programs and associate vice president for International Partnerships. She played an integral role in forming accredited partnerships with Chinese institutions and establishing the Chinese Student Alumni Association, making frequent trips overseas to forge new relationships. She also spearheaded the establishment of the school's social work program, which is now an academic department that bears her name.
From the archives: Letter from Gene Sease, former president of Indiana Central University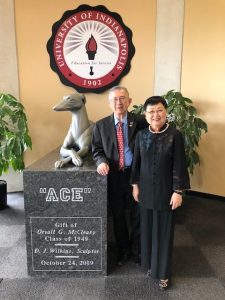 The Phylis Lan Lin Scholarship in Social Work, which supports social work students from traditionally underrepresented groups who have a commitment to social work and social justice, is another important facet of Dr. Lin's legacy. Four scholarships of $5,000 each are awarded annually to students enrolled in either the bachelor's or master's of social work program at the University of Indianapolis.
"UIndy is thriving, and I want to be part of that growth. In that way, I don't really want to retire!" Dr. Lin said. "But it's good timing, because UIndy is entering a new phase in our international partnerships. We need the new leadership. I have built the foundation but there will be more challenges. It's time to pass the torch."
"We are incredibly proud of Dr. Lin's achievements. She is one of the hardest working members of our department and an integral part of our team. We are grateful for her fantastic 45 years of service," said Amanda Miller, chair of sociology.
Read an extended biography here.
Mary Moore, professor of sociology and associate vice president of accreditation, echoed those sentiments: "Over 30 years ago, I was hired as a new faculty member at the University of Indianapolis by Dr. Phylis Lan Lin, and since that time she has served as a mentor and colleague. Throughout her career, Phylis has looked for ways to engage junior colleagues in collaborative projects that have served to advance to her colleagues' careers. Her vision, which is to imagine in grand ways, is the opposite of her personal philosophy where she always puts others before herself."
Dr. Lin follows a dual leadership philosophy of being a "V.I.P." – a person with vision, integrity and passion, and also embodies the 4 "H's" – humanism, humility, holism and happiness. She appreciates the collegial atmosphere at the University of Indianapolis as well as the support it provides for international programs.
"It is so hard for me to leave my beloved institution after serving thousands of students and working closely with hundreds of faculty and staff in the last 45 years. Together, we make good things happen and we transform lives. I am gratified, humbled, and blessed. UIndy is thriving and the best is yet to come," Dr. Lin said.
Click here to read a comprehensive biography written by Kristeen Ruddle '97.
Click here to read a 2014 interview with Dr. Lin.