Athletic training alum scores honor in Minor League Baseball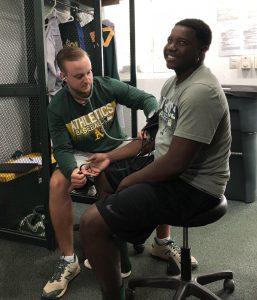 University of Indianapolis alum Nick Voelker made the record books in Minor League Baseball (MiLB) this summer without even picking up a bat.
Voelker, who graduated in 2014 with a degree in athletic training, was named the Athletic Trainer of the Year for the Dominican Summer League and is now eligible to be named Minor League Athletic Trainer of the Year. This is Voelker's second year in the MiLB. In 2017, he was an intern with the Cincinnati Reds Dominican Republic (DR) team. This year, he is a full-time athletic trainer for the Oakland Athletics DR team.
"I perform all injury evaluations and oversee daily treatment and rehab of current players here at our complex in Santo Domingo Norte, DR," Voelker said.
Players in the Dominican Summer League hail from Latin America and range in age from 16 to 22. Voelker said the summer league serves as a player development operation to prepare these players for "baseball at the next level; playing in the U.S."
"My favorite part of the job is helping the players stay healthy, but more importantly teach and coach them on the importance of the work they do with me to prevent injury," Voelker said. "It's an interesting vibe here because the wins and losses aren't as important as how a player develops to become stronger and more knowledgeable about injury prevention, nutrition, and overall health and wellness."
Voelker credits the quality education he received while at UIndy for much of his success. In a note to Dr. Christine Lauber, director of the Athletic Training Program, he said, "Thanks again for helping me start my career. I hope to continue representing UIndy well from here forward!"