Indianapolis Public Library commissions letterpress work by UIndy art & design students

Two graduate students in the University of Indianapolis art & design program recently produced a commissioned letterpress work for the Indianapolis Public Library.
Auna Winters '20 (M.A.), '18 (art & design, printmaking concentration) and Kalia Daily '20 (M.A.), '18 (studio art major, art history minor, painting and printmaking concentrations) created a promotional poster for IPL's letterpress event series, which showcases the history and community of printing in Indianapolis.

Amy Griffin, the special collections librarian at the Indianapolis Public Library, approached Katherine Fries, assistant professor of art & design and director of UIndy's printmaking program, about a commission. The library is partnering with Indiana Humanities to host the events, which include a tour of UIndy's Hullaboo Press printmaking studio, 2-4 p.m. Oct. 13.
"Amy was interested in having a letterpress poster to advertise and commemorate these events, and Katherine recommended the project to Kalia and me as grad students. We were thrilled!" Winters said.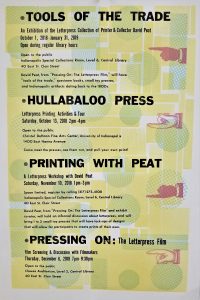 The series title is "Then and Now: Printing in Indy." The students said they were inspired by the title to showcase older, more historic elements with more contemporary ones, showing how letterpress has prevailed and evolved over time. They proposed several ideas, and the Indianapolis Public Library followed the students' suggestion to create a two-print commemorative set.
"It was so exciting to work on, especially since all of the events we featured are events that either we are involved in, or highlight the contributions of people we consider our letterpress family," Winter said.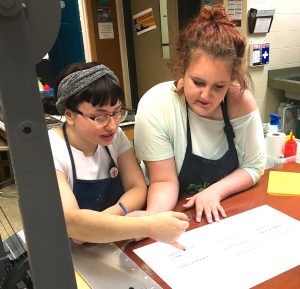 The series is made possible through a grant from Indiana Humanities in cooperation with the National Endowment for the Humanities and by Friends of the Library through gifts to The Indianapolis Public Library Foundation.
Related events at the Central Library include an exhibition of David Peat's letterpress collection, Oct. 1, 2018-Jan. 31, 2019.  (Note: Work by David Peat's father, Wilbur D. Peat, a longtime Indianapolis-based artist and curator, is on display at the Christel DeHaan Fine Arts Center through Oct. 5).