Mission Matters #46 – Irby J. Good: Student Volunteer (1905-1908)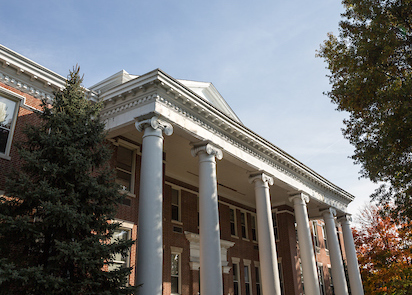 by Michael G. Cartwright
Vice President for University Mission
This year we are exploring different patterns of student experience. This is part one of a set of three articles about the life and work of Irby J. Good, Class of 1908.  
Try to imagine with me: what must it have been like for new students like Irby J. Good on opening day the last week of September 1905? The opening convocation had taken place in the auditorium. United Brethren in Christ Church officials offered prayers of blessing on the endeavor, the eight members of the faculty had each spoken briefly, and no doubt President J. T. Roberts had exhorted the students to embrace the opportunities that a college education provided. This event, which was attended by about 75 people, probably included some parents of those student enrolling in the College of Arts, School of Commerce, and School of Music in addition to the students in the Academy (a preparatory school to help high school age students get ready to do college-level work).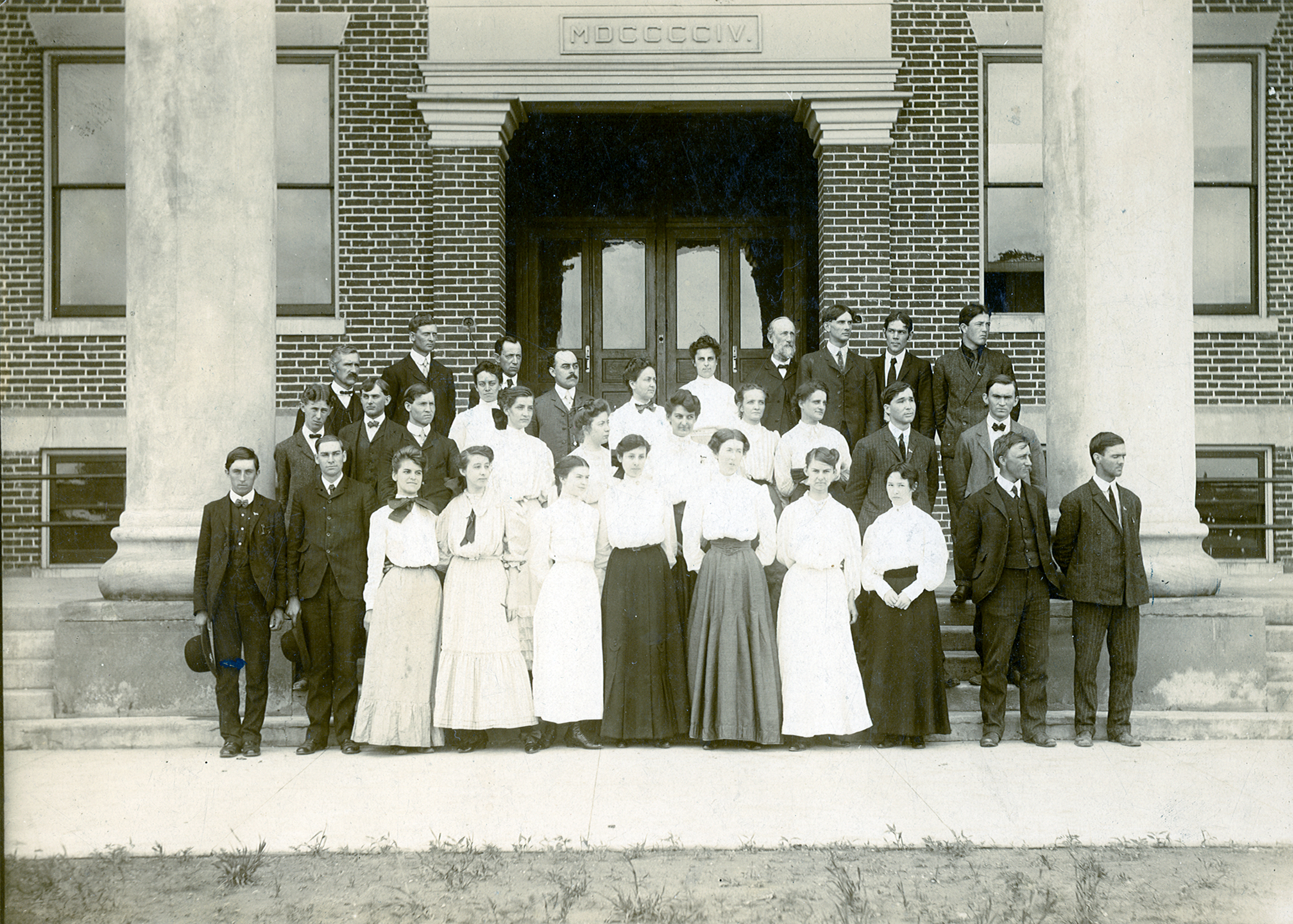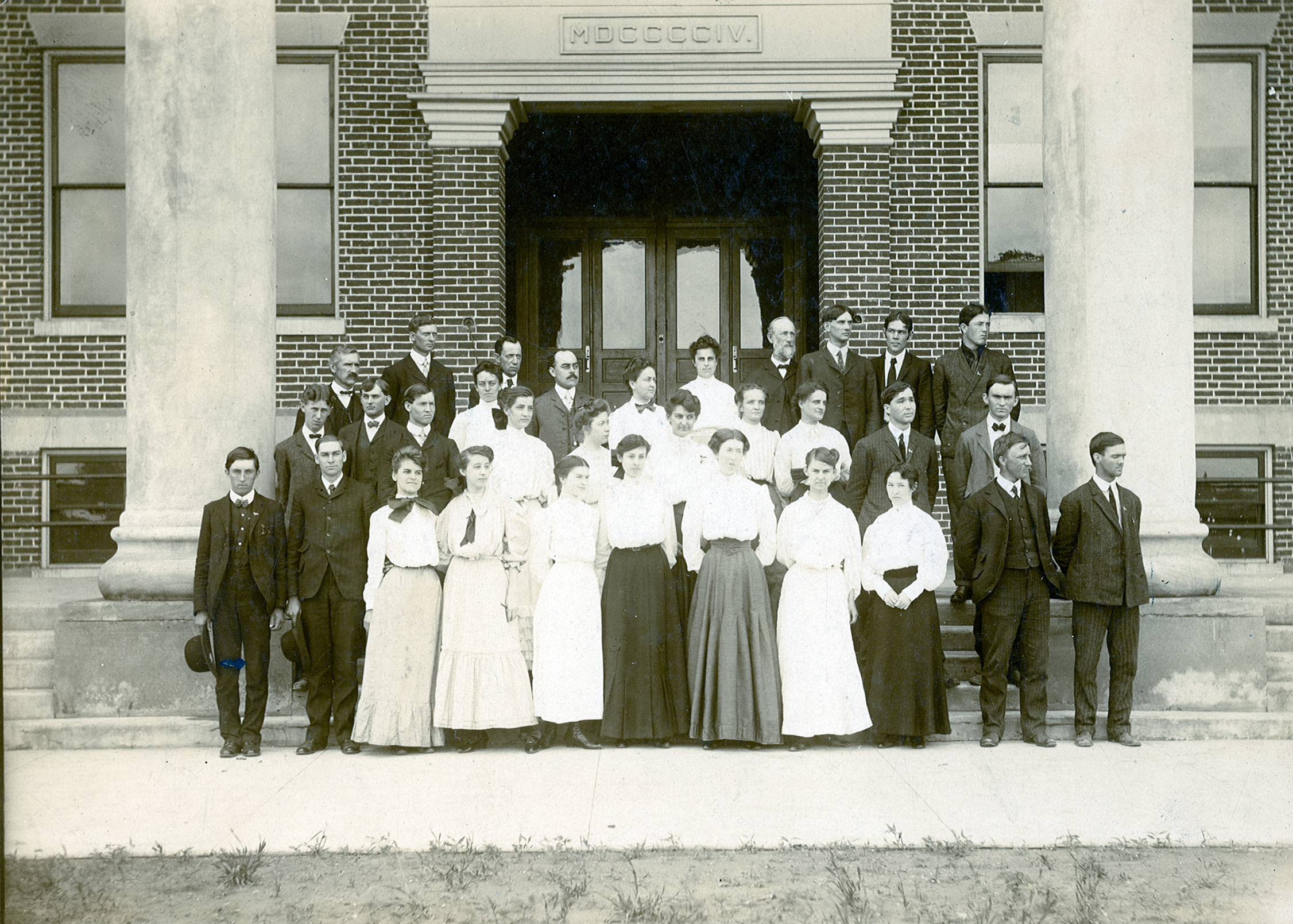 Sometime that same day a photograph was taken of an assembled group of faculty and students on the steps of the Portico of Good Hall. Nothing about the photograph hints at the exceptional situation. The steps of the Portico look impressive. The closed set of doors look classic as befits an institution of higher education.
Inside the building there, though, there were almost no furnishings at first. Rooms that were used as classrooms during the day did double duty as "dormitory" accommodations for students and some faculty at night. And so on.
I. Bringing the Picture of the Earliest Student Experience into Focus 
L. S. Hartley famously quipped that the terrain of the past is like "a foreign country. They do things differently there." In the case of the student experience of the earliest generation, this is doubly true. Consider what I. J. Good wrote in his valedictory address * (June 1944) about what he and his peers experienced 29 years before.
"The new college – Indiana Central University – opened on September 27, 1905. Its president, Dr. J. T. Roberts, and his family moved into the southeast corner rooms on the first floor, while other faculty members and students were quartered in other rooms in the college building. There were eight faculty members and about twice that many students. Most of the students came to take academy (high school) courses. There were only two houses within half a mile of the new college except two new ones on Hanna Avenue, which the President was having built at the time the college opened."
"The teachers and students had to do the best they could, with a few folding chairs and a few tables in the class rooms until other equipment was procured. They also went to work on the ground, which had been left uneven about the college building. Wheelbarrows, shovels, hoes, hand rakes served to get the ground ready for grass seed. Then some walks were constructed and the following spring, teachers and students bought and planted maple trees for the space in front of the college. Later they cleaned out the thicket of underbrush back of the college building where the gymnasium, Men's Hall, and Noblitt Observatory now stand [east of Good Hall on the south side of Hanna Avenue]. They also dug ditches and laid tile to drain the college basement and put a concrete floor in the basement."
Placing the photograph of the group on the steps alongside this two-paragraph description helps to bring this word-picture into sharper focus. There he is: Irby J. Good is the second person from the right end of the second row.
Despite the fact that Irby Good's uses third person pronouns throughout, readers can easily register the "I" and implied "we" that is present throughout his memoir, which describes a mentoring environment in which he played a central role due to his educational background and experience.
We know that all of the students as well as the faculty who stood on the steps of the College Building on that sunny day in September 1905 were recruited in less than four months. Indeed, when the Board of Trustees met in June 1905, President Roberts did not know that he would be serving as president of the venture. The Board of Trustees of the fledgling institution felt that they had little choice to move forward even though no one had agreed to accept the challenge of serving as president.
A considerable part of the student experience during the first years, then, was to finish getting the college ready to operate as a college. The situation was one of shared sacrifice, inadequate provision, and constant struggle. President Roberts used a biblical idiom to convey much the same thing. "Never since apostolic times have a people lived together with more in common than we did that first year." Roberts went on to quip that they didn't dare try to do that a second year.
II. The Terrain of Student Experience at Indiana Central University 
The coursework offered at Indiana Central University in those years reflected the 19th century paradigm of a baccalaureate degree grounded in literary study based on the classics (Greek and Latin) as well as a pair of modern languages (French and German). Students were free to "elect whichever language" to make their focus of study, but they were required to complete two years of coursework in order to receive a degree. The course of study was largely fixed, although it was possible to obtain a certificate by taking the "Commercial Course" of study instead of the "Academic Course."
Students had limited options, and within the narrow range of electives, they studied with a small number of peers, some of which were enrolled in the Academy. Most were between 20 and 30 years of age, although a few in were teenagers. At age 20, Irby Good would have been one of the younger students.
The advertisements for ICU indicated that all of the faculty were Christians, but left some ambiguity about student faith professions, recognizing that students were in the process of their individual identity formation. Even so, the presumption was that students would participate in Christian activities. Students were expected to attend chapel, which took place daily. On Sunday morning, the congregation of University Heights United Brethren Church met in the College Building. Together, the academic endeavors and the Christian activities provided the basic structure of the student experience. But there are at least three features of the student experience that extended beyond these requirements.
First, on the first day of class in 1905, students took steps to form literary societies on campus. Professor John A. Cummins and sophomore Irby J. Good both had participated in the Philamathea (Lovers of Learning) literary societies at Otterbein University in Ohio, and this experience appears to have informed the thinking of students and faculty participants at ICU. The students weren't sure whether to form one or two such societies, but in due course they proceeded). The following year, Philomusea (Lovers of Poetry), a literary society for men, was organized. Irby J. Good was the first president. In the fall of 1907, a group of women students organized Philalethea (Lovers of Truth) led by Alta Hindbaugh and Laura Croas.
As Prof. Fred Hill reports in his centennial history: "Each society met weekly in a room that it had furnished and decorated in the College Building. Each maintained a small periodical library that supplemented the collection in the library. Parliamentary drills under Robert's Rules of Order were held frequently." As Hill goes on to explain, "Programs consisted of extemporaneous speeches; orations, meaning speeches without manuscripts or notes; oral presentations of book reviews, reviews of magazine articles, biographies, autobiographies, essays, current news; and debates." Although voluntary, the literary societies were obviously "extensions" of the academic program of the university, and were vehicles for young students to develop leadership skills and social etiquette while being mentored by older students as well as faculty sponsors.
Second, there were student-initiated fellowship groups that encouraged student vocation exploration and growth Christian discipleship. Hill observes that to the participants in the Young Men's Christian Association (YMCA) and the Young Women's Christian Association (YWCA) these fellowship groups "must have seemed like extension of the church." Almost from the beginning they provided student-led activities to supplement the religious programs sponsored by the university and the University Heights United Brethren Church.
According to Prof. Hill, the Student Volunteer Band was yet another Christian organization founded (1913). Irby Good claims to have been the first "Student Volunteer" at ICU, and there is no reason to doubt him even if it is not immediately clear what that meant in 1905-1908 since the first Student Volunteer Band was not organized until 1913. We know from multiple sources that Irby Good aspired to be a missionary, and his participation in this group appears to have been a vehicle for exploring that aspiration.
As serious as these pursuits were, the student experience at Indiana Central was not exhausted by activities that took place in spaces of the College Building (as Good Hall was then known). There were also opportunities for physical recreation and athletic pursuits. This third type of extra curricular activity at ICU took both both formal and informal expressions. Hill reports: "In the fall of 1905 some students … laid out a baseball field west of Otterbein Avenue and south of Russel Avenue [now known as Windermire] and organized the Athletic Association. Membership was open to all students and university personnel on the payment of an athletics fee." The pitcher for the team – which finished the first season 4-1 – was none other than Irby J. Good.
I imagine 20-year old Irby at the center of things in 1905, organizing activities, urging his peers as well as the younger kids, "Come on, Flossie and Floyd, let's go play baseball!" . . . "Come on, Bill and Lucy, let's raise money for Student Volunteer missionaries to Africa." . . . "Come on, everybody, let's get ready for the next meeting of the Literary Society. Have you practiced Roberts Rules of Order to get ready for the debate about the Panama Canal?"
In matters great and small, Irby J. Good gave himself to the work of founding Indiana Central University to be a "church college" for the United Brethren in Christ Church in Indiana. ICU was both a means to the end of church-sponsored education for the United Brethren denomination and an end in itself as a transcendent cause in the service of which students had the opportunity to experience the transforming effects of higher education.
III. Selected to Bear the Hopes of the Founders for Indiana Central 
In order to bring the picture of student experience into tighter focus, we must take into account the shape of Irby Good's own memory of his student years. And here we run into something stranger still. We are used to alumni using leadership opportunities as a primary lens through which to view their student years. If you talk with longtime UIndy trustee Mike Watkins '68, he can tell you about how he learned leadership skills that he uses today from serving on the Central Council during his junior and senior years. And the student experience of Jenny Fogo '85 '87 was enhanced by her participation in the Christian Life Committee as well as her leadership as the organizer of the first Appalachia Service Project trip during Christmas break of her junior year.
In the case of Irby J. Good, the time span is a different duration than what we are accustomed to use as our frame of reference. Good spent his first year of college at another institution, so technically he was only an Indiana Central student for three years. But that is not the timeline that defined Good's experience. When I. J. Good looked back on his student years, he did not think of a discrete period that began with matriculation and concluded with graduation and the awarding of a degree.
What makes the student experience of I. J. Good especially strange to those of us who are citizens of the 21st century is the fact that Good was the chosen bearer of the hopes for the students of Indiana Central, a fact that he also addresses in his valedictory remarks of June 1944. At the very beginning of his valedictory remarks, President Good recalls that he was present in 1902 on the day when J. T. Roberts, William Karstedt and real estate developer William Elder presented the proposal to the White River Conference of the United Brethren Church to build a college in University Heights in the context of selling lots for a new neighborhood. Not only was he present when the idea was first broached, he was an eye-witness to the historic action that was taken.
Good also recalls that two years later Bishop Ezekiel Kephart was visiting a church in Marion. In addition to his oversight responsibilities as the bishop who presided at the White River Conference that year, Kephart was the Chair of the Board of Education for the United Brethren in Christ Church, a position that he held for a quarter of a century. More than anyone else, Kephart was the champion of Christian higher education for the United Brethren denomination. The bishop sent for Irby to come talk with him. Bishop Kephart shared with the young high school graduate the plans that United Brethren leaders were making for the new "central" college in Indiana. At the end of the conversation, Good had caught the Bishop's vision. The next day, the 18-year old boy left home and traveled to Westerville, Ohio, where he enrolled at Otterbein College, to prepare to assist in the effort to found the college in Indiana. "After a great year at Otterbein, Bishop Kephart's protégé was the first student to appear on the grounds of the new college in the new addition of lots platted as University Heights."
The phrase that Irby Good uses – "Bishop Kephart's protégé" – may sound a bit pretentious, but based on available information they are not inaccurate. In point of fact, Irby J. Good was selected to be "the first student" of Indiana Central University, and – with that prospect in view – he was asked to go away to college to prepare to help lead the effort to found Indiana Central College.
"The Marion boy was the most advanced student in the college at the time, so it was his fortune to secure almost private instruction, especially under Dr. John A. Cummins. This student not only helped with all the physical improvements, but proceeded to lead in the work of organizing and promoting the YMCA, the literary societies, and teaching Bible classes and mission study groups. In his senior year, he taught several Academy classes and became the college's first Student Volunteer for foreign missions."
You can't miss it. Irby J. Good was clearly very proud of the fact that he was present at the beginning – indeed at all the major moments of this venture. He stood in awe of the fact that he found himself where he was, but he does not see himself as some kind of divinely chosen instrument. He admits the circumstances were "unusual and exceptional." In fact, he thought there wasn't "a chance in millions" that he would have been "called upon within a comparatively few years to have a large part in making the enterprise [of Indiana Central University] a success after it had become hopelessly involved."
Here Good confronts a difficulty. He finds it challenging to separate out his student experience from his roles – a few concurrent and others subsequent – as peer leader, tutor, instructor, principal of the academy, business manager of the college, acting president and president. These are tasks that he took on not because they were attached to particular career trajectories, but because they were critical to carrying out the cause to which he had committed himself – the success of Indiana Central as an institution of the United Brethren in Christ Church.
IV. Conversations with Prof. Cummins Before and After Graduation 
On other occasions, I have described the University as a "hybrid" institution in which the students and faculty of the founding generation had a shared vocation as "Christian Life Workers." Conversations explored the perplexities of what it meant to hear God's call and act in ways consistent with Christian discipleship. Such quests for discernment were not limited to those men and women who were seeking ordination as clergy. Indeed, the Student Volunteer movement was heavily populated by laypersons like Irby J. Good, who were motivated to give their lives in Christian service as well as to the great causes or social "crusades" of the day.
This is a most unusual kind of student experience, to be sure, but it certainly is not unprecedented. Indeed, one of the most significant mistakes we can make in recounting the history of higher education near and far is to assume that the categories of students and faculty have always been discrete. It is hard to know how many other students experienced overlapping roles, but we know that there was at least one other personduring the first three years who occupied a comparable circumstance. Miss Nina Blakely graduated from Valparaiso College in 1904 with a degree in music (at a time when it was a Methodist affiliated college with a conservatory). Her role at Indiana Central was to teach students to play musical instruments. Miss Blakely was also enrolled as a degree-seeking student in the College of Arts, and therefore a fellow student with Good during the three years that they overlapped. Like Irby Good, Nina Blakely also chose to give herself to various other endeavors, including the Ladies Aid Society organized through the local congregations of the United Brethren Church.
While it is easier to register the overlap in roles where persons share the status of students, we shouldn't ignore the ways in which students would have had the opportunity to be mentored by faculty in ways both formal and informal. As we have already seen, Good credits Professor John A. Cummins (a philosopher) for much of what he learned during his three years at Indiana Central. In the context of tutorials in which Good would report on his reading and Cummins would question the young man about his grasp of the literature, we can imagine the two of them discussing concepts like the "great man theory of history" advocated by the Victorian essayist Thomas Carlyle. Good may or may not have been attracted to such a romantic perspective, but he would not have been unusual if he did.
Prof. Cummins, whose intellect was more scientific than literary, was influenced by the sociological theories of Herbert Spencer. The latter philosopher argued that human beings are shaped by their social circumstances, that before they take actions they are made. So it is easy to imagine Cummins articulating his doubts about whether it is true that history is propelled by the actions great figures, and we can also imagine young Irby J. Good taking the measure of Cummins' quest for intellectual integrity while trying to determine what his own convictions were in such matters.
In the midst of such theoretical conversations, Irby J. Good and John Abijah Cummins also would have had much to talk about that was grounded in the daily challenges of running Indiana Central University. Indeed, Cummins and Good were yoked early on in a relationship that would span four decades. These two were bound by common cause – the extraordinarily difficult task of founding a university within financial constraints and a steady stream of challenges that threatened the success of the fledgling college. As Good later wrote,
"During these three years as a student, constant contact with the President and with Dr. Cummins, who was acting treasurer, kept [the student from Marion] thoroughly informed about the terrific struggles involved in trying to secure finances through gifts and loans and to keep teachers. He and Reverend C. P. Martin in 1908 became the first two graduates of the college and then he was urged to stay to teach, which he did."
What did Irby Good do for the next five years? Fred Hill reports that Good did a little bit of everything: "…he served as principal of the academy for three years and taught mathematics and physics one year, German language and literature three years, and history and economics one year…" At the end of his fifth year of teaching, Good received an honorary Master of Arts degree, which gave him an academic credential to go with his five years of experience. As Prof. Hill observes, the breadth of Good's teaching responsibilities "probably says more about the university's desperate need to fill teaching positions than about Good's scholarly versatility." Whatever he may have intended at the outset, Indiana Central University became Irby J. Good's life work. To repeat his own laconic words, Good "was urged to stay, which he did." When it came to describing his life work in relation to his student experience, there was no real separation for I. J. Good.
I can imagine readers wondering: What would it have been like for Irby J. Good to feel free to explore his sense of calling to be a foreign missionary for the United Brethren Church or the (ecumenical) Student Volunteer Movement? That is an interesting question – a hypothetical query that 21st century students and staff may find especially attractive. But it is anachronistic as well as speculative. Good's generation of "student volunteers" – or "Christian life workers" as they sometimes called themselves – were shaped in significant ways by the awareness of world struggles and many felt the lure of participation in the world's great causes.
From the age of 18 on, Irby J. Good set aside some of his personal preferences to the needs of the United Brethren Church's conferences in the state of Indiana. At age 30, he became president of his alma mater, a responsibility that he shouldered for the next 29 years. Good's conscientious resolve – initially shaped by his student experience – would only be made firmer by the experience of World War I, the Great Depression, and World War II. To use the language of his generation of students, Irby J. Good was a "life worker," a "student volunteer," a young man who was thrice chosen to lead Indiana Central University. And each time, he accepted the challenge – with determination, humility, and (to use his own words) "downright devotion to the cause."
Part Two of this month's Mission Matters piece will be distributed shortly after Homecoming Weekend. Thanks for taking the time to reflect with me. As always, I invite your feedback at missionmatters@uindy.edu.
Remember: UIndy's mission matters!   
*Please Note:  Documents used in the preparation of Mission Matters #46 include "Thirty-Nine Years at Indiana Central College" by I. J. Good, which was originally published in Indiana Central College Bulletin, series 37, No 2, June 1, 1944 and available as an online digital resource of the Frederick D. Hill Archives of the University of Indianapolis. Used with permission of the archives director Mark Vopelak.