University of Indianapolis celebrates International Education Month in October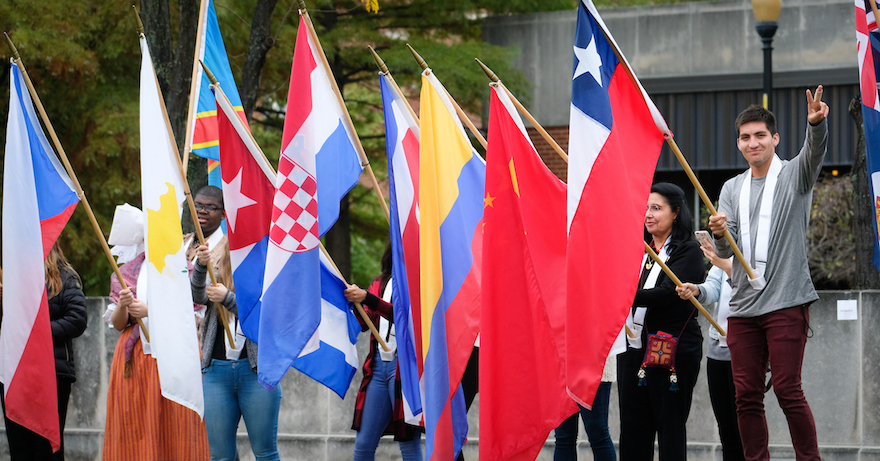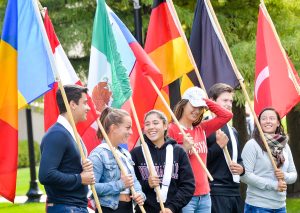 The second annual International Education Month gets underway in October, with a variety of performing arts, film, lectures and interactive events designed to showcase international cultures at the University of Indianapolis and the rich benefits of intercultural exchange.
Highlights include the 30th Annual Celebration of the Flags on Oct. 11. Modeled after the Olympic-style opening ceremony, the event is held on Smith Mall, with international students carrying the flags that represent the many nations of the University of Indianapolis community.
Immediately following the Celebration of the Flags, students, faculty and staff are encouraged to visit the International Exposition in the Atrium of Schwitzer Student Center. The Expo will feature interactive displays hosted by campus offices, departments and student groups, including Study Abroad; Global Languages and Cross-Cultural Studies; English; International Relations; Community Engagement; and Chinese, African, Saudi, Burmese, South Asian, and the Student Organization of Latinos, among others.  The Expo also features interactive activities such as henna tattoos, Chinese calligraphy, traditional artifacts, and clothing displays. Food will be catered by TBaby's Authentic Caribbean Cuisine. Participants receive a "passport" to be stamped by interacting with cultural presenters and table hosts.
International Education Month Events
Oct. 4, 7:30 – 9:30 p.m.  Symphonic Wind Ensemble and Chamber Orchestra – A Concert Featuring UIndy International Faculty and Works. Christel DeHaan Fine Arts Center/Ruth Lilly Performance Hall, L/P Credit
Oct. 8, 6 p.m. Breaking Down Barriers, UIndy Hall C (Presented by Student Organization of Latinos for Hispanic Heritage Month)
Oct. 9, 4-5 p.m.:  "Conviver: Using Education to Design a Better Life Together, A Brazilian Initiative," featuring guest speaker Dr. Josefa Cuhna, Chair of Education, Federal University of Parana, Brazil. HEAL 138, L/P Credit
Dr. Josafa Cunha is the chair of Education at the Federal University of Parana, in Brazil. This is one of the oldest and most prestigious Brazilian universities. He will present on his research on school climate and how to craft school interventions to promote positive peer development. "Conviver" means living together in harmony, implying solidarity and respect. Through a combination of online resources and in person mentoring, this project fosters innovation in schools to address the particular issues related to improving life in schools and communities. This program is unique in Brazil for its emphasis on positive development and collaborative community action.
Oct. 11, 2-3 p.m.:  Celebration of the Flags, Smith Mall, 2-3 p.m., L/P Credit
Featuring UIndy's international students carrying the colorful flags of their countries in a procession around Smith Mall. Speakers include President Robert L. Manuel, Indianapolis Student Government President Jamarcus Walker and Craig Anesu Chigadza, an international student from Zimbabwe. Performers include Adam Fernandes '22 (graphic design) on guitar and Caroline Kavanaugh '22 (exercise science) on violin.
Oct. 11, 3-5 p.m.:  International Expo,
Schwitzer Center Atrium, 3-5 p.m., L/P Credit
Oct. 11, 7 p.m. Dancing with SOL (Student Organization of Latinos) UIndy Hall
Oct. 17, 6:30-8:30 p.m.:  Global Languages and Cultural Studies International Film Night:  "Code Unknown" (in French with English Subtitles).  HEAL 138, L/P Credit
One of the world's most influential and provocative filmmakers, the Oscar-winning Austrian director Michael Haneke diagnoses the social maladies of contemporary Europe with devastating precision and artistry. His drama Code Unknown, the first of his many films made in France, may be his most inspired work. Composed almost entirely of brilliantly shot, single-take vignettes focusing on characters connected to one seemingly minor incident on a Paris street, Haneke's film–with an outstanding international cast headlined by Juliette Binoche–is a revelatory examination of racial inequality and the failure of communication in an increasingly diverse modern landscape.
Oct. 18, 3-4 p.m.:  "Expanding Your Global Horizons through Study Abroad."  Schwitzer Engagement Area, L/P Credit pending
A panel of UIndy students will offer information about their experiences participating in a variety of international education opportunities and settings.  Attendees will have the opportunity to ask candid questions of the students and find out if study abroad is right for them.
Oct. 18, 7 p.m. Leadership dinner with the president, Nelson House  (Student Organization of Latinos)
Oct. 26, 9-11:30 a.m.:  "West Meets East: Health & Culture," RB Annis Theater, Health Pavilion L/P Credit
This 2018 West Meets East Forum panel discussion will help participants conceptualize both scientific research and clinical practices. Therapists, doctors and students will discuss the benefits of inter-professional and multicultural health care. Participants explore the importance of moving beyond embracing cultural competence to promoting true cultural equity; the belief that all people in all settings have a right to have, embrace and fulfill their intellectual, psychological, material and spiritual traditions. This forum will enhance participants' global cultural understanding for effective communication and practice in their respective fields.
Oct. 26, 1-3:30 p.m.:  "West Meets East: Health & Culture Panel Discussions," Healthplex, L/P Credit
Oct. 28, 3-4:30 p.m.:  "East Meets West Concert IV," Christel DeHaan Fine Arts Center/Ruth Lilly Performance Hall, Free admission, L/P Credit
Hosted by the Office of Asian Programs at the University of Indianapolis, the fourth "West Meets East" concert features music that transcends borders and brings cultures closer together. Distinguished UIndy music faculty and guests celebrate the second annual International Education Month, highlighting the diverse multicultural resources on the campus and in the community. More information: 317-788-3255