Leah Milne hosts INConversation with author Victor LaValle Oct. 11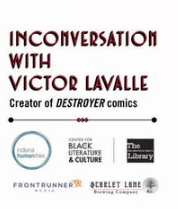 Leah Milne, assistant professor of English, will moderate an INConversation with author Victor LaValle Oct. 11 for an Indiana Humanities event at the Central Indianapolis Public Library. Doors open at 6 p.m. for this free event. Register here.
Mr. LaValle will speak with English capstone students at the University of Indianapolis earlier in the day (11 a.m.-12:20 p.m. Schwitzer 010).

More info:
One of the most thrilling adaptations of Frankenstein is Victor LaValle's Destroyer, a series of comics that darkly reimagines Mary Shelley's classic tale by way of Black Lives Matter. Over the course of the story, scientist Dr. Josephine Baker, the last descendent of Victor Frankenstein, reanimates her son Akai, who was killed by police. This sets them both on a collision course with the original monster, forced out of the Arctic by global warming and hell-bent on finding and destroying all of his creator's remaining descendants. Destroyer wildly spins together elements of science fiction, horror, the politics of race and policing and a moving story of a mother's grief.
Indiana Humanities is pleased to welcome Victor LaValle, who is also the acclaimed author of The Changeling and The Ballad of Black Tom, to Indianapolis for a special INconversation as part of One State / One Story: Frankenstein, our statewide celebration of the 200th anniversary of Shelley's original "hideous progeny." Hear from Victor as he shares the inspirations and ideas animating his work and why, two centuries after its publication, Frankenstein's creature still holds such power over our imaginations.