Health sciences professor runs ultra marathons for hope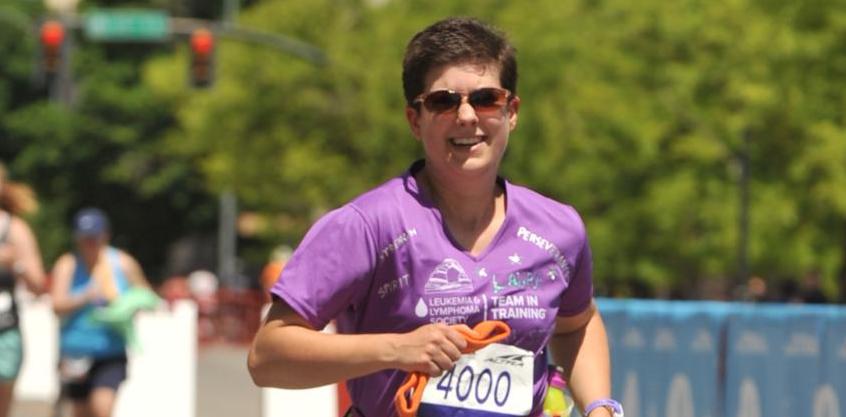 "What did you do over the weekend?"
It's a common Monday morning question. Ask Dr. Laura Santurri, chair of the Interprofessional Health and Aging Studies department and director of the Doctor of Health Science program, and she is likely to say "I ran 50 miles."
At least that will be her answer next month after she completes her third ultra-marathon. An ultra-marathon is a race of any distance longer than 26.2 miles. Santurri's first "ultra" was a 50K (31 miles) in October 2017. She followed that with a 40-mile ultra in April 2018.
The motivation behind Santurri's long-distance running is chronic disease. She started running in 2006 in an effort to feel healthier. It turns out that running helped relieve her symptoms of interstitial cystitis, a painful, chronic bladder disease. That, coupled with the feeling of accomplishment she got when crossing the finish line of her first 5K, kept her running.
"Running has been a way for me to manage my pain, but also build confidence and self-efficacy as a person," Santurri said. "I decided to run my first ultra in a somewhat last-minute way, and after completing it, I was hooked."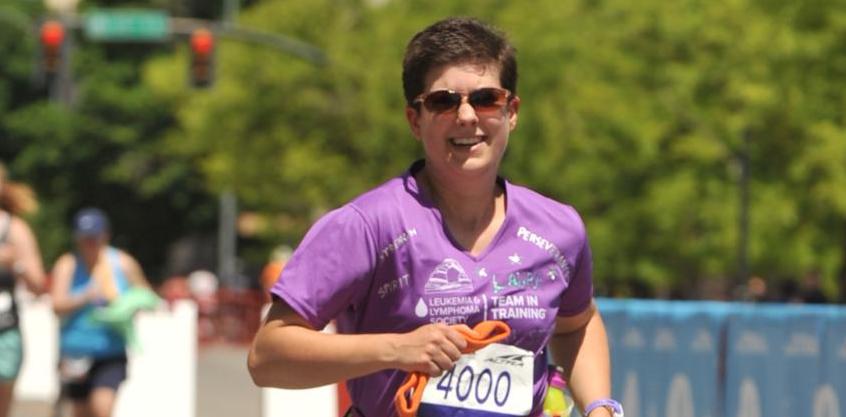 Next month, she will take on the 50-mile option of the Indiana Trail 100 run at Chain O'Lakes State Park in Albion, Ind. to raise money for the Leukemia and Lymphoma Society (LLS) for a cause that's close to her heart.
Here's an excerpt from her LLS fundraising page:
"On Friday, October 11, 2013, my husband, Harlan, was diagnosed with chronic myelogenous leukemia. We watched our world shatter, and over time, put ourselves back together, piece by piece. This re-crafting of ourselves made us different – some pieces are flipped, some have shifted, some are missing. But somehow, this process has made us stronger, better. Part of this rebuilding was a result of connecting with the Leukemia and Lymphoma Society (LLS) and Team In Training, and these amazing people became a part of our family."
To train for the Chain O'Lakes race, Santurri works with a coach who creates weekly training schedules for her, incorporating a mix of strength training, stretching, and running.
"At the peak of my training, I'll be running seven to 10 hours per week," she said. "My weekends are mostly running and then recovering."
Santurri's ultra marathon efforts were recently featured in the ICA Update, a publication of the Interstitial Cystitis Association (ICA). In that feature, she said "Physical activity is one very effective mechanism for giving yourself a little bit of hope."
It's that hope, for relief from her own chronic pain and for a cure for her husband's chronic leukemia, that keeps Santurri running.
To contribute to Santurri's Leukemia and Lymphoma Society fundraising effort, visit her CrowdRise page here: https://www.crowdrise.com/o/en/campaign/lauras-50-miles-in-the-fight-to-cure-leukemia