Debra Feakes brings fresh perspectives to campus

Amid the growing consensus about the importance of STEM education to tackle complex global issues, Debra Feakes, dean of the Shaheen College of Arts & Sciences at the University of Indianapolis, offers insight on the continuing significance of the liberal arts.
"General education outcomes like teamwork, communication, critical thinking and reasoning are equally important as getting that STEM education. Somebody who can combine the two of those and communicate well at all levels is a powerful graduate," Feakes explained.
As dean of the Shaheen College of Arts & Sciences, Feakes describes herself as an advocate of the general education core curriculum. Her perspective has evolved over more than two decades in higher education to embrace the idea that STEM skills are connected to the humanities in critical ways, which is a concept she champions in her role.
Emphasizing the relevance of the liberal arts and the value of a well-rounded education is a primary component of Feakes' long-term strategy for the Shaheen College of Arts & Sciences, comprised of 20 undergraduate and 9 graduate programs.
"Part of the task for colleges of arts and sciences across the nation is to recognize the contributions from these fields. We need to focus on making what we do meaningful to the public and demonstrate how this work has a broader positive impact," Feakes said.
Feakes came to appreciate the humanities through her mother, whose interest in the arts acted as a counterweight to Feakes' science-oriented academic career. Feakes earned a doctorate in chemistry from Utah State University in 1991, but the subject matter didn't always come easy.
"I got average grades, but chemistry was a passion. I realized I could be challenged every single day as I took the career path," Feakes said. "I truly believe that anybody can do what they want, as long as they're passionate about it."
An important component of her student experience that she draws from as an educator, including 24 years at Texas State University and now as dean at UIndy, is centered in helping students unravel layers of complexity.

"There's a perception from students that if you're teaching chemistry, chemistry was easy for you. I understand how difficult it was to grasp, so I was able to use that to help develop my teaching skills, and how better to explain things and make it relevant to students," Feakes said.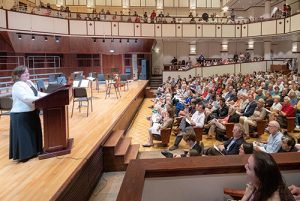 Raising awareness among high school students and undeclared majors about potential careers is another goal for Feakes in her role as dean.
"When I went to school, I knew people who wanted to be an art historian or chemist. But nobody told me they wanted to be in experience design. I'd like to look at how we can bring the students in and show them potential careers that they might not have considered before," Feakes explained.
Exploring the field to its full potential is a common theme in Feakes' own career. As an inorganic chemist, she specializes in boron neutron capture therapy, a treatment designed to target tumor cells for patients with glioblastoma, a form of brain cancer. Her interest in chemical education research led her to the area of supplemental instruction, which she applied across the chemistry program as associate chair of the Department of Chemistry and Biochemistry at Texas State.
Under the supplemental instruction model, students who excelled in chemistry courses were invited back and paid to model good student behavior in class, such as taking notes or asking questions. Those former students also held study sessions to help current students learn study skills.
Supplemental instruction is one example of Feakes' work as interim associate director of the LBJ Institute for STEM Education and Research at Texas State, which aims to improve access and opportunity for participation in STEM careers. High-impact practices also included first-year experience classes targeted for specific majors, early internship opportunities, undergraduate research and learning assistants.
"There are mechanisms to improve retention rates at UIndy and those are just some of the things that we can look at," Feakes explained.

As the first female tenure-track faculty member in the Department of Chemistry and Biochemistry at Texas State, Feakes says she appreciates the value of female, minority and disability role models in STEM fields.
"If we're truly going to embrace diversity, we need all of those opinions," she said.
Learn more about the Shaheen College of Arts & Sciences at the University of Indianapolis