Four lessons from the Women in Leadership Sports Industry Panel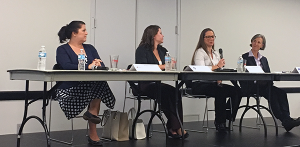 Professionals from across the sports industry recently shared their experience with University of Indianapolis students as the Departments of Kinesiology, Health, and Sport Sciences hosted the "Women in Leadership: Strategies and Success" panel On Thursday, October 4.
The four panelists, whose backgrounds ranged from former LPGA pro to former morning radio host, fielded questions on nearly every aspect of working in sport. A special focus was given to the challenges women can expect to face in the industry, but the event offered valuable insight for everyone in attendance.
Here are four lessons from the night's panelists.
On Making Mistakes
Audrey Becker
Event & Program Director, NFL Combine
"Learn from your mistakes, good or bad. The people you surround yourself with, they'll back you up because they employ you, they believe in you, and they're there to help you in the process … You're going to make some mistakes along the way; don't let them override your success."
Audrey, an alumna of the UIndy Sport Management program, shared that she once unintentionally booked two NFL teams in the same hotel suite. She explained that the best thing to do is own the mistake, and offer solutions on how to fix it.
On the Importance of Networking
DeAnne M. Green, MS, LAT, ATC, PES
Sports Medicine Manager, Community Sports Health
"Make a concerted effort to find one person at each industry event and connect with them. Reach out to them on a consistent basis, invite them out for coffee, ask for a shadow experience."
The importance of networking was emphasized by DeAnne, a self-professed introvert. DeAnne credited three women with being significant career mentors, one of whom (a former National Athletic Trainers' Association president) connected DeAnne with her current position.
On Work-Life Balance
Angela Hatem
Membership Director, Indiana Sports Corporation
"I don't want to miss my nephew's tee ball game—that's a memory I want to have. I don't want to remember that Excel sheet from earlier. Sports are easy to live around and soon you find yourself talking about nothing else. You have to do things for yourself as well."
The panel agreed that work-life balance can be hard to find in the competitive, fast-paced industry of sport. They recommended identifying what your life priorities are and sticking to them, while finding flexibility where you can at work.
On Finding What You Don't Like
Diane Dickman
Managing Director of Division 1 Governance, NCAA
"If you have an experience with something you don't enjoy, that's good. That's something you know. You can say 'I now know I don't want to work in X.' Be good with that."
After leaving the LPGA tour, Diane went to graduate school and found plenty she didn't like. She worked in the ticket office, in event management, and coaching; she found herself uninspired by each. Eventually, she started working in compliance and that led her on the path to the NCAA.
Laken Detweiler is a M.S. in Sport Management student and helped to introduce the panel.
"It might sound ridiculous, but sometimes you do not realize everything that goes into an event, and that someone has the job to make sure it gets done," Laken says. "I love learning the different responsibilities that various jobs have, it is helping me narrow down where I want to go in my future."
Written by Logan McGrady, Communications Specialist for Graduate and Adult Learning Enrollment.