Public health students present at national conference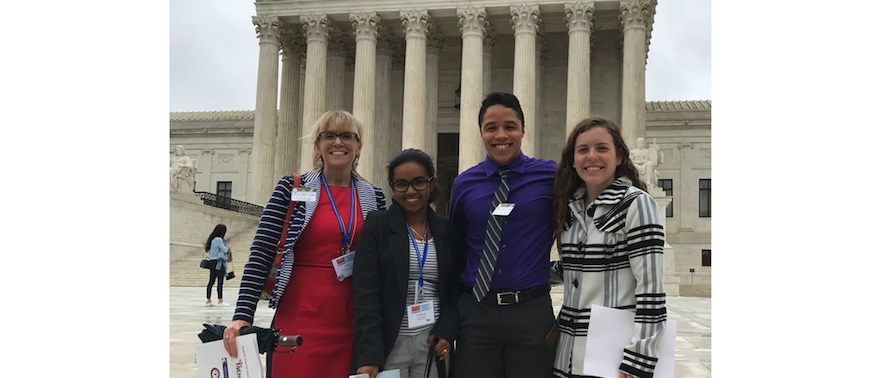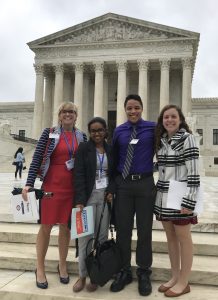 Public health students and faculty from the University of Indianapolis presented advocacy strategies to reduce gun violence at the Society for Public Health Advocacy (SOPHE) Advocacy Summit in October. The national event, hosted in Washington, D.C., brought students and professionals together to advance the discussion of firearm-related violence as it relates to public health.
The UIndy delegation included Master of Public Health (MPH) students Yordanos Gebru and Shawn Schweitzer, undergraduate Megan Davish, and MPH Program Director Dr. Heidi Hancher-Rauch. Their presentation, "Strategies for the Novice Advocate: Creating Advocacy Plans to Fight Gun Violence," provided a toolkit for professionals to make a difference in their community.
Dr. Hancher-Rauch, who serves as co-chair for SOPHE's Advocacy Committee, says the access to professional opportunities that the public health program offers is central to her students' success.
"We worked together on the whole process, from start to finish," she said. "Attending the conference is important, but often students don't have the opportunity to see behind-the-scenes of a professional experience. This takes their learning to the next level … These are the opportunities I would have liked to have as a graduate student."
Learn more about the Master of Public Health program and the undergraduate Public Health Education & Promotion program
Presenting on such a hot-button issue at the national level was at first an intimidating prospect for Schweitzer. But he knew there was no turning back once their abstract was accepted.
"Not a lot of people want to talk about things like this, but it needs to be discussed," he said. "This was a perfect opportunity to get out of my comfort zone."
This conference was one opportunity among many for Schweitzer to engage with his field outside of the classroom.  For example, he is developing an after-school program to help area high-school students utilize coping skills in the face of stress.
"It's amazing how much hands-on work we get to do. It has given me a lot to think about—what kinds of projects do I want to continue working on after I graduate?"
Hailing from Ethiopia, Gebru plans to attend medical school after earning her graduate degree.
"The MPH program has shown me the different factors that affect the overall health of a population—policies, programs, health education," Gebru said. "Problems are more expansive than simple explanations like a lack of doctors or health facilities."
Dr. Heidi Hancher-Rauch can be contacted at rauchh@uindy.edu.
Written by Logan McGrady, Communications Specialist for Graduate & Adult Learning Enrollment.