Faculty-student collaboration sheds light on DNA forensic techniques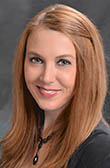 Krista Latham, associate professor of biology and anthropology, and Jessica Miller '19 (M.S., human biology), recently published a paper on advances in the forensic sciences. Latham is director of the University of Indianapolis Human Identification Center, which assists coroners throughout the country in identifying human remains. Latham's work in identifying migrants who died while crossing the southern U.S. border has been recognized nationally.

"DNA recovery and analysis from skeletal material in modern forensic contexts" was published in Forensic Sciences Research in October 2018. Latham explained that the article "discusses developments in forensic genetics and focuses specifically on obtaining and analyzing DNA from human skeletal remains, as well as improvements in utilizing DNA for identification purposes."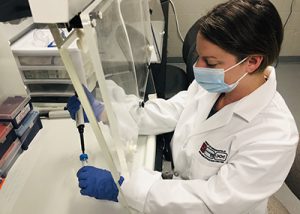 "Advances in DNA research have allowed for smaller quantities of  DNA to be analyzed," Miller said. "This will ultimately lead to more identifications.  The article also discusses different databases that are available for comparisons of DNA from unidentified individuals to families of the missing."
The faculty-student collaboration involved research on the newest forensic DNA technologies and collecting literature on the topic.

"Dr. Latham and I met weekly to discuss the material and work on the article. This included revising multiple drafts, creating a strong collaboration between the both of us that generated some great discussions, and inspiration that lead to my thesis research project on DNA transfer," Miller said.
"It was a great experience working with Jessica on this publication," Latham added. "A true benefit of the small program sizes at UIndy is the ability to work closely with students on research projects, presentations and publications that can have big impacts on the field of forensic science."
Following graduation, Miller plans to develop her forensic and scientific skills by working in the local medicolegal community on death investigations, and hopes to pursue a doctorate in anthropology. She is grateful for the support of biology faculty.
"Dr. Latham and other human biology faculty have been very generous with their time and have always been present and active in my studies. They provide and supervise many extracurricular activities that make this program unique, like the ability to conduct research that I can present at conferences, the opportunities to publish in scientific journals and the ability to participate in forensic work through the Human Identification Center."