Department of Music celebrates accolades from recent conference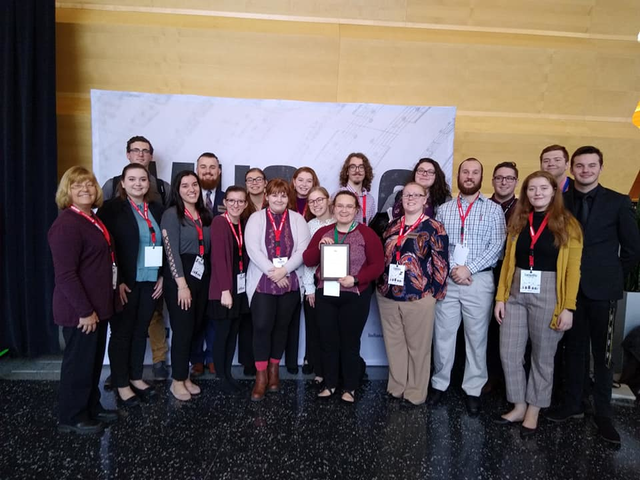 The University of Indianapolis Department of Music was well represented at the January 2020 Indiana Music Education Association's (IMEA) Professional Development Conference recently held in Fort Wayne, with several UIndy faculty, undergraduate students and alumni receiving awards or presenting sessions or performances.
Awards
1. Kourtney Christensen (UIndy '22), Music Teaching – Outstanding Future Music Educator Award
"I was so pleasantly surprised to find out I won this award. It definitely is a great showcase and culmination of all the hard work that I have put in to my degree and the music education profession. It also motivates me to continue to work hard to be an outstanding music educator."
2. Jessica Baker (UIndy '23), Music Teaching – elected as Collegiate Representative for the IMEA Board.
3. 2019 Collegiate Chapter of the Year for the Indiana Music Education Association in conjunction with the National Association for Music Education (cNAfME) (also rec'd '16, '13, '11, '09), Officers include Kourtney Christensen – President; Shelby Miller – Vice-President, Austin Money – Treasurer, Jessica Baker – Secretary, Meagan Brown and Megan Price – RSO Representatives, and Spencer Chapman – Freshman Liaison, Brenda Clark, Advisor and Director of Music Education Programs
Performances:
All-State Middle School Jazz Ensemble, Directed by Mark O'Connor, Director of Jazz Studies
UIndy Jazz Ensemble – Directed by Mark O'Connor
Intercollegiate Honor Band – UIndy Symphonic Wind Ensemble participants included Spencer Chapman, Kourtney Christiansen, Marcus Click, Rowen Garza, Natalie Haynes, Emily Larmore, and Joseph Margheim
Faculty presentations:
Mark O'Connor – Coaching the Rhythm Section for Non-Rhythm Section Players 
Jon Noworyta – Eight Points of Power and the Flow of the Line – Back to the Conducting Basics, and  Healthy Diet, Healthy Mind – Looking at  Repertoire from the Artist's Point of View
Alumni presentations:
Shawn Goodman ('08), Music Teaching – Playin' Changes: A Step-by-Step Method  for Teaching Jazz Improvisation
Amanda (Vidal) Gainey ('11), Music Teaching – Trust-Based Relational Intervention (TBRI) in the Elementary Music Classroom
Steven Georges ('12), Music Teaching – Instrument Repair for Educators     
In addition, the Alumni Reception was attended by approximately 80 – 85 individuals from around the state, representing six decades of Greyhound musicians!