Virtual Dementia Tour puts students in the shoes of those with dementia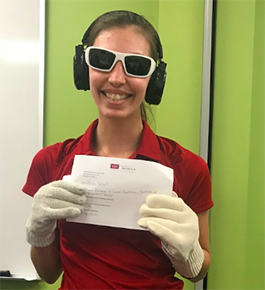 You never truly know the plight of another person until you are walking in their shoes. The University of Indianapolis Center for Aging & Community gave students the opportunity to do just that during through the Virtual Dementia Tour (VDT), which was part of UIndy's recent Interprofessional Education (IPE) Week. With the country's number of baby boomers set to become the largest living adult generation, all students will likely interact with a person with dementia, whether as patient or a family member.
The VDT simulates the sensory disturbances experienced by people struggling with debilitating effects of dementia. The VDT takes place in a home-like environment, and participants are given a simple task to complete within a 3-minute time frame. Before entering the mock apartment on the 4th floor of the Health Pavilion, participants were given headphones, visual obstruction goggles, and oven mitts to simulate poor hand control.
Janette Hensleigh, a Master of Occupational Therapy student, remarked, "The headset with the background noise and the occasional fire siren paired with the obfuscating glasses did a great job of muddling both the instructions I was given and my awareness of things around me."
These multi-sensory disturbances are a normal daily occurrence to the millions of people living with dementia worldwide.
"This immersion into the world of a person with dementia has the ability to change perspectives of healthcare professionals across all fields," said Kayleigh Adrian, CAC project coordinator. "The virtual dementia tour allows the student to switch their perspective from knowledge about a disease to true compassion for another person."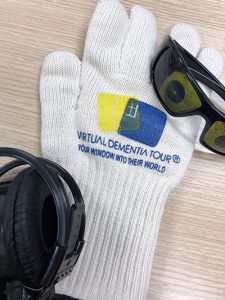 The students who participated found that the short experience in the apartment will change their mindset for the long term. Samantha Wallenberg, a Doctor of Occupational Therapy student, said the experience has allowed her to "be more mindful of those who have dementia and understand how to communicate with them better, as well as how to communicate with their family." Her classmate, Nicole Scholl, agreed.
"If I ever work with a client who has dementia or even memory loss, I am going to be patient and understanding with them," Scholl said. "I will also be advocating for people with dementia when interacting with their caregivers and other people because what people with dementia are going through is very difficult and challenging."
Each participant's reflection had a common theme: frustration. Scholl was frustrated when "I forgot what I was doing and I could not find anything. By the time I found what I was looking for I forgot why I needed the object in the first place."
This emotional experience led Hensleigh to rethink how she interacts with not only patients, but family members. "I will definitely keep this experience in mind when I interact with people with dementia," she said. "I have a family member in the early stage of dementia, and I will remember to keep questions or statements very simple so he can better understand.  I will keep that in mind when I work with people with cognitive deficits, too."
Last month's VDT received interest from students pursuing health careers, but the experience is open to all students, faculty, and staff. The VDT will be offered again in the Health Pavilion on Tuesday, November 13 from 5:00-6:30pm and again from 6:30-8:00pm. Space is limited and reservations can be made online here.
Written by Olivia Horvath '20 (OTD)