Senior spotlight: Taylor Kleyn, biology & environmental science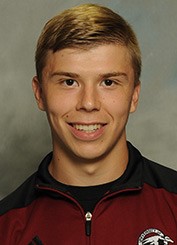 Leading up to December commencement, we'll be featuring stories & reflections from the senior class.
Taylor Kleyn '18 is a biology and environmental science double major and chemistry minor. He will attend Indiana University School of Medicine in fall 2019.
Q. What student groups or activities have you been involved in during your time at UIndy?
A. I have been a member of the cross country and track and field teams all four years at UIndy. I have loved being on the team and all the friendships that have developed as a result. In addition, I have been a Student Athletic advisory Committee representative for the cross country team.
I have also been involved with the Honors College and am currently on the executive board. The Honors College gave me the opportunity to visit Belize on a spring term trip which has been one of the most impactful experiences I have had.
My participation in Film Club allowed me to pursue creative projects outside of my normal science-oriented majors.
Q. Is there anyone at UIndy who had an impact on you?
A. I have had so many teachers who have had an impact on me that it is hard to name them all.
Dr. Peter Murphy taught an honors philosophy class on charitable giving which opened my eyes to poverty on a global scale and how many factors should go into deciding on a charity. This class really helped me realize that medicine is what I want to pursue.
Dr. Katherine Stickney was my organic chemistry teacher. I was not ever a huge fan of chemistry until I took her class. The ways she showed how cool chemistry can be have really increased my appreciation and passion for science.
Dr. Levi Mielke and Dr. Sandy Davis are two other science professors who I have had for several classes; they are excellent, and I admire their expertise in their respective subject areas. In addition, the entire science department at UIndy has been outstanding.
Q. Would you recommend UIndy's biology program to prospective students?
A. Absolutely. I have loved every single professor I have had at UIndy. The small classroom environment allows you to pursue closer relationships with professors, which helps promote learning and makes for a fun and friendly environment.
Q. Final thoughts as you look back on your time at UIndy?
A. I have loved my time at UIndy, and coming here has been one of the best decisions I have made. UIndy has given me the tools to pursue my graduate aspirations. Being a student athlete here has also been amazing, and I would highly recommend UIndy to anyone who wants to focus on academics but still loves to compete in athletics.