Senior spotlight: Vania Wyatt, sport management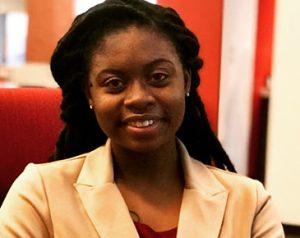 Leading up to December commencement, we'll be featuring stories & reflections from the University of Indianapolis senior class.
Vania Wyatt '18 (sport management) will be the featured student speaker during the Dec. 15 commencement ceremony.
Q. What student groups or activities have you been involved in during your time at UIndy?
A. RSO: Project Regalia, Resident Assistant, Residence Hall Association. These organizations enhanced my communication skills and helped me build relationships among the students here.
Q. What internships have you completed as a student?
A. Internships: Indianapolis Motor Speedway Ticket Sales Operations and University of Indianapolis Game Day Operations/Facilities. The skills that I gained were great organizational leadership skills, communication, critical thinking and time management.
Q. What are your plans after graduation? What's your dream job?
A. My plans after graduation are to go into corporate partnership to work in sponsorship activation and also start a non-profit sport organization for youth.
Q. Is there anyone at UIndy who had an impact on you?
A. Over the years here I have impacted a lot of students too long to list here at UIndy. Moreover, I was impacted by the Professional Edge Staff, especially D'ana Downing, Jennifer Smith, Meredith Fox, Timeshia Key, Alexandria Kennedy, Erin Jackson, Arionne Williams and the list goes on. The ladies I listed have always been supportive of me and helped guide me to be the best I can be during my college experience.
Q. Would you recommend UIndy's sport management program to prospective students?
A. Yes, I would definitely recommend the sport management program to students. This program teaches students the necessary skills to make a change in the sports industry. They will receive guidance along their journey in this program that will be above and beyond what would have been expected. The UIndy sport management program is very supportive and helpful and will prepare each student with their own endeavors to gain entry into the sports industry.
Q. Advice for incoming freshmen?
A. Think of ways this college experience can be beneficial to you and your goals that you have set for yourself. In addition to having fun, enjoy the experience from your first day to your last day.