Angie Presnell and UIndy alumni return from mission trip to Sierra Leone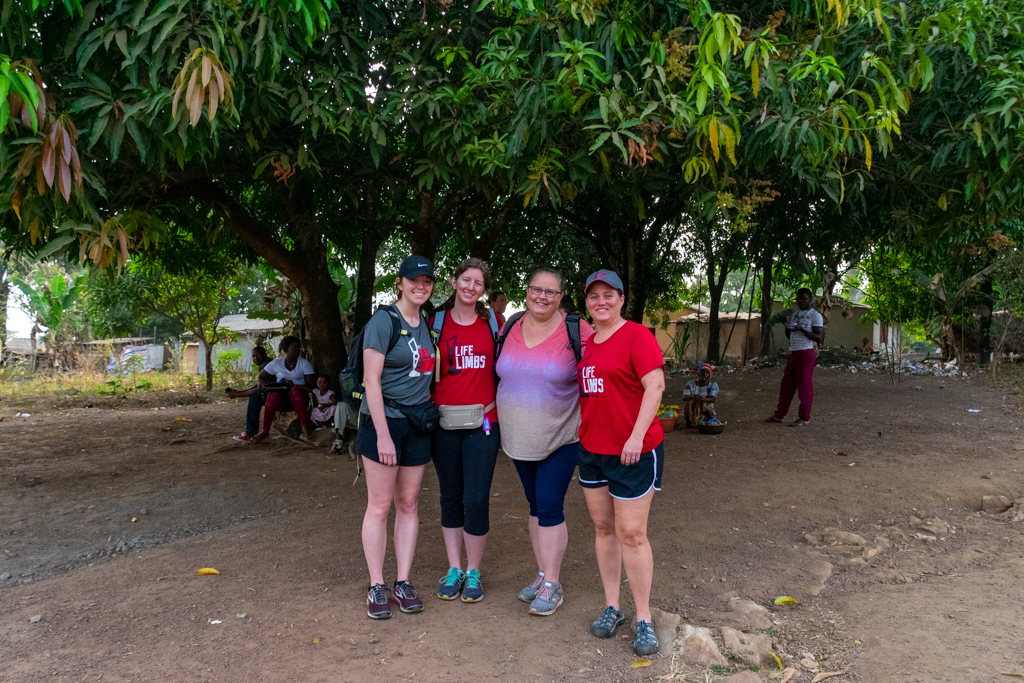 Angie Presnell, manager of operations in the Office of the President, recently returned from a mission trip to Makeni, Sierra Leone. Accompanying her on the trip were three UIndy grads, Sarah Humbird '16 (exercise science) '18 (doctor of occupational therapy), Dava Anderson '94 (masters in occupational therapy)and Hannah Purcell '13 (psychology) '14 (masters in occupational therapy).
One of the primary focuses of this mission trip in particular is to serve amputees, many of whom sustained their injuries during a decade-long civil war. The purpose of the trip connected with Presnell because she has seen first-hand how becoming an amputee can affect people's lives.
"My mom became an amputee in August 2014. I watched my mom's life change drastically and while she handled it like a champ, it was extremely difficult. When the opportunity for this mission trip was brought to my attention, I was immediately drawn to it," she said. "I know first-hand how being an amputee changed my mom's life and she has all the equipment and supplies to help make life more manageable. In Sierra Leone the amputees don't have the same access to equipment and supplies which greatly diminishes their quality of life. Many are not able to work and provide for themselves or their families."
Below is Presnell's trip report from her time in Sierra Leone:
***
Our trip to Sierra Leone takes us to a town called Makeni.  Our trip is two-fold: we work with blind students at an orphanage and provide prosthetic supplies and services to amputees in the surrounding area.
We go to an orphanage/blind school called Bombali School for the Blind.  There are approximately 60 children at the school.  We had a retired school teacher with us this year.  She taught lessons to the children in the morning and worked with them on learning parts to a play.  In the afternoon a few of our volunteers, including Sarah Humbird, had a vacation bible school for the children.  The play was performed one morning for all the students, school staff, our volunteer group, and the neighborhood. 
There was a civil war in Sierra Leone from approximately 1991 until 2002.  During this time the militia would come through the towns in Sierra Leone and cut off arms and legs with machetes.  Additionally, the medical care in Sierra Leone is lacking and injuries that would be easily repaired in the US will likely end in an amputation.  Because of these things, there is a very high population of amputees.  New Life with Limbs is a not-for-profit that takes a team of prosthetists, therapists, and others to measure new patients and fit returning patients with prosthetics and supplies.  This is done free of charge for these patients.  A lot of fundraising is done during the year to pay for the supplies. 
New Life with Limbs has gone on this trip 6 years – 2013, 2014, 2016, 2018, 2019, 2020.  I have been on 3 of the trips (2018, 2019, 2020).
This trip we measured over 140 new amputee patients for a prosthetic.  We will take their prosthetic on our next trip.  Over 75 prosthetic devices and supplies were fitted and deployed into action.  Since starting this journey in 2013, New Life with Limbs has nearly 400 patients in their database.
Below is a picture of (L to R) Sarah Humbird, Hannah Purcell, myself, and Dava Anderson.  The tree we are standing in front of has great significance to the people in Makeni.  It is a mango tree where all the amputees gather and wait to be treated.  Many times they will wait hours, an entire day, or even multiple days. Under that mango tree is where I do much of my work.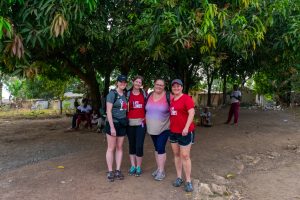 ***
Presnell participated in the mission trip through her church. Trips like this one, and even mission activities locally, help the church increase their footprint, but also mesh with the service-learning goals at UIndy. The curriculum at UIndy emboldens students, faculty and staff to engage in social responsibility as well as create cultural connections through their works.
"I think it is important for people to give their time, talent, and/or money to do something outside of themselves. I have done mission work locally as well as abroad and I think both are important," she said. "We need to care for all people. I believe that is what we are called to do."