Senior spotlight: Andrew Rattay, nursing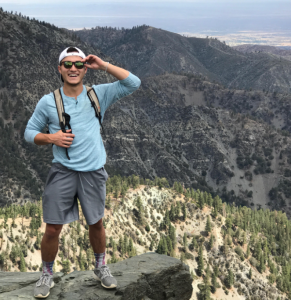 Leading up to December commencement, we'll be featuring stories & reflections from the University of Indianapolis senior class. 
Andrew Rattay '18 (nursing) has plenty of interests beyond his major. He started his own company, "Lively Media," which honed his entrepreneurship and filmography skills, and he wrote a song related to research on compassion fatigue for his capstone project. And he might even be learning to fly sometime soon!
Julianne Wright, assistant professor of nursing, said: "Andrew is an extraordinary young man who treats patients, staff, faculty and fellow students with grace and compassion. He is uplifting and always goes the extra mile."
Q. What student groups or activities have you been involved in during your time at UIndy?
A. I was once a part of the student-led UIndy a capella group Indy Aces! It really opened up my social connections at UIndy and allowed me to grow my confidence as a UIndy Greyhound!
Q. Could you talk about your song "Compassion Fatigue" and how that came about?
A. My song came about during a clinical research project related to compassion fatigue during my clinical rotation on the medsurge unit with Dr. Julianne Wright. Dr. Wright said we could be as creative as we wanted to with the project so I took that as a challenge! I was inspired to write a song about the topic and I later used it as a foundation for my capstone project as the research was still relevant. I've since made and posted a music video on YouTube and a lot of my peers, as well as professors, love it! I believe it serves as a reminder for all health professions to never lose sight of the reality of patient care. I hope the video will go viral one day!
Q. What are your plans after graduation?
A. I hope to work in the critical care unit at one of the community hospitals in the area. I also hope to grow my company as I take on more clients in need of professional video work. I also hope to obtain my pilot's license in the near future! That's another little side goal of mine – to fly!
Q. Is there anyone at UIndy who has had an impact on you?
A. My peer Moises Sanchez has always driven me to be my best. He always seemed to push me to "stay the course." He would agree that our goals have always been very similar and that we always agreed we would "see each other at the top" of the theoretical mountain of goal attainment.
Q. Would you recommend UIndy's nursing program?
A. Yes, absolutely! The program wasn't just a way to obtain a nursing degree. It was a way to create amazing relationships. The professors were like family and the interdisciplinary across other majors was very powerful in my professional development.