University of Indianapolis Class of 2018 encouraged to give back

The University of Indianapolis held its December Commencement Ceremony on Saturday before a capacity crowd in Ransburg Auditorium.
More than 250 students graduated from the University of Indianapolis in December, including 215 undergraduate, 38 graduate and four doctoral students. The total number of University of Indianapolis graduates for 2018 (May, August and December combined) stands at 1,589 students from 24 countries, with 1,056 undergraduate, 533 graduate and doctoral students, and 78 graduates at international partner sites.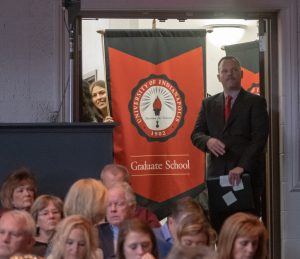 President Rob L. Manuel encouraged graduates to pursue great ideas through community-building, service and passion.
"You are now and forever will be a part of our story. You are now part of the UIndy quilt – a tapestry woven together over more than 110 years," Manuel said.
The ceremony included a full academic procession, performances by Department of Music students and the National Anthem performed by Meghan Farris '18 (music).

Levi Mielke, 2018 University of Indianapolis Teacher of the Year, provided the Commencement address. He emphasized the power of "paying it forward" to improve communities.

"Don't only become teachers, but teach others to teach.  Don't only invent, but invent inventors. Don't only heal but mentor the next generation of doctors and nurses," Mielke said. "Partner with others for good, to bring others up and to advance your own education. It will change the world."
Student speaker Vania Wyatt '18 (sport management) urged the Class of 2018 to use their skills to tackle the complex problems of the world.

"We came here ambitious and talented individuals, but we are leave better than before by being determined, motivated, aspiring like-minded individuals who will be the change," said Wyatt.