Five things you didn't know about Katherine Matutes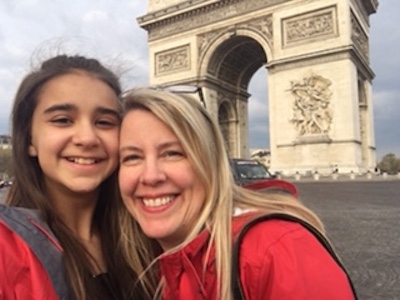 Katherine Matutes was hired in September 2018 as the campus wellness coordinator. She received a doctoral degree in nutrition from Purdue University with research focused on molecular nutrition (how dietary compounds influence gene expression). She has been a certified personal trainer for more than 25 years and an advanced yoga teacher for 10 years.
What's one thing you want people to know about your job?
The directives for my role come straight from the top. UIndy is committed to enriching the lives of its employees and enhancing their work experience. My purpose is to develop a sustainable culture of well being for employees. The UIndy community is so welcoming and friendly that it already feels like home. I am thrilled to be here!
What's the most rewarding part of your job?
Helping people optimize their health is so powerful. It is my privilege to witness the positive shifts that happen in lives when health improves. A client that I guided to a sustained 75 pound weight loss shared that her "whole life is better because of my advice." I couldn't ask to have a more profound and impactful professional purpose.
Tell us something people might be surprised to know about you.
I have gypsy feet. I love to move to new cities. There is something exciting about getting to know a new town and it's unique cultural secrets that I find thrilling. I have lived in 15 different cities, including several abroad but this is my third "tour" in Indianapolis. I grew up here so it always beckons me back. Indy felt like the right place to raise my kids so I plan to stick around until I retire, then who knows?
What do you like to do in your free time?
My husband and I have two teenagers who keep us crazy busy so free time almost always means family time. We love to camp, especially near Lake Michigan and we enjoy travel of all kinds. I relish cooking healthy foods almost as much as I enjoy eating them. I have been an avid exerciser all my life and try to squeeze in my current favorites weekly: hiking, swimming, lifting weights and yoga. I also adore cozying up with a good book.
Favorite wellness tip?
Little habit changes can make a big difference in your health. You don't have to run marathons to see improvements. Regularly choosing veggies over fries and going for a walk after a meal can help with weight loss. If you are overweight, losing just ten pounds can reduce health risks.
Teaching cooking and food science have been professional passions of mine for many years because I enjoy communicating nutrition science in a way that is digestible in daily living.
Anything else you want to add?
The wellness initiative serves employees & I welcome employee feedback on their experiences with the programs. Participants sometimes hesitate to let wellness coordinators know their thoughts because they feel like they are burdening other staff but hearing concerns and compliments let's me know what we are doing right and what needs tweaking. Call me! Email me! I promise I want to hear from you!
Contact info:
Katherine Matutes, PhD, E-RYT 200, RYT 500, YACEP
matutesk@uindy.edu
317-781-5346