Community Partner Fairs offer boundless community engagement opportunities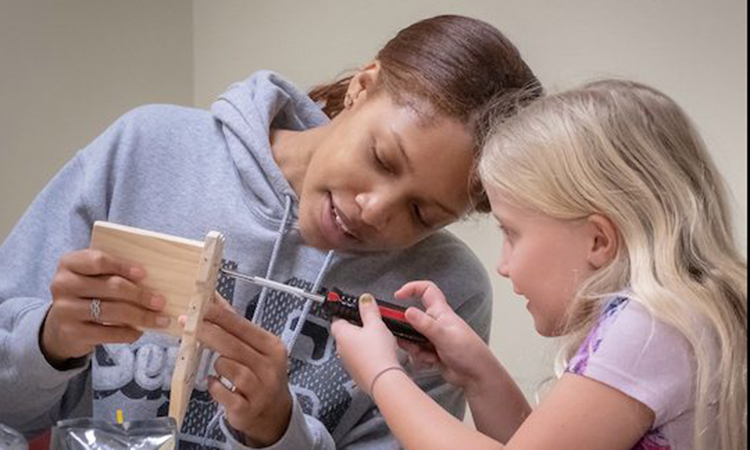 Community engagement, service-learning, networking and skills development are all on the agenda for the Spring 2019 Community Partner Fairs. Taking place Jan. 17, 24 and 25, the Center for Service-Learning & Community Engagement hosts the fairs every semester with the goal of connecting students, faculty and staff with dozens of community organizations to develop their skills through service-learning and other community engagement initiatives.
The next fairs take place from 11 am to 1 pm on Thursday, January 17, Wednesday, January 23 in the Schwitzer Student Center and Thursday, January 24 in the Health Pavilion lobby. The Jan. 24 fair will highlight health-related community partners.
Jan. 17:
Ambassadors of Hope
Art With a Heart
Big Brothers Big Sisters of Central Indiana
Boys & Girls Clubs of Indianapolis
Charter Schools USA
Edna Martin Christian Center
Emma Donnan Elementary and Middle School
Exodus Refugee Immigration
Girls Inc. of Greater Indianapolis
Heartland Film
Indianapolis Symphony Orchestra
Indianapolis Zoo
Intercollegiate YMCA
Joseph Maley Foundation
Keep Indianapolis Beautiful
Noble, Inc.
One Mission Society
School on Wheels
Westminster Neighborhood Services, Inc
YMCA of Greater Indianapolis
Jan. 23:
500 Festival
Auntie Mame's Child Development Center
Best Buddies
Brooke's Place for Grieving Young People
Burmese American Community Institute
Catholic Charities Indianapolis Refugee & Immigrant Services
Church World Service/Greater Indianapolis CROP Hunger Walk
College Mentors for Kids
Family Development Service
Global Gifts
Indiana Sports Corp
Indy Hunger Network
Indy Reads
John Boner Neighborhood Centers
Joy's House
LYN House
Public Advocates in Community (PACE)
Rebecca's Garden Of Hope Tutoring Program
St. Elizabeth Coleman Pregnancy & Adoption Services
Youth Global Perspectives
Jan. 24:
AccessAbilities, Inc.
Alzheimer's Association of Greater Indiana
ArtMix
Central Catholic Schools (RightFit program)
Cancer Support Community Central Indiana
Down Syndrome Indiana, Inc.
Easterseals Crossroads
Family Voices Indiana
New Hope of Indiana
Pink Ribbon Connection
The Damien Center
College Mentors for Kids is one of many community partners offering students opportunities to connect and grow their skills. In November 2018, about 90 students from the UIndy chapter of College Mentors for Kids partnered with F.A. Wilhelm Construction (Wilhelm) to teach local kids about estimating, planning, safety and other aspects of construction.
For two days, nearly 100 elementary students from southside schools and their UIndy student mentors met with volunteers from Wilhelm to learn all the steps in constructing a building, which included making their own birdhouses.
"The activity that Wilhelm provided our little buddies was an incredible learning lesson in a career field that many of them might not have known much about. It opened their eyes to the possibilities they all have," said Taylor Lahrman '20 (marketing), who is president of the student organization at UIndy.
In 2019, Lahrman said, College Mentors for Kids has many great activities planned that revolve around culture and diversity, community service, and higher education. The group is recruiting new members who are available to volunteer on Tuesdays or Wednesdays, along with a few officer positions. Apply here
"Being involved in College Mentors for Kids has shown me that every child deserves to have a role model," said Lahrman. "A mentor is meant to be a person they build a bond with, learn from, and look up to. I would've loved to have this when I was in elementary school, so being able to give back to those who need it most is one of the best things someone can do."