KSPT faculty meets with U.S. surgeon general, who says PT is alternative to opioids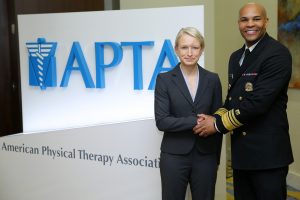 Many University of Indianapolis Krannert School of Physical Therapy faculty are in Washington, D.C. for the American Physical Therapy Association's Combined Sections Meeting. Emily Slaven, KSPT associate professor and president of the Indiana Physical Therapy Association, had the opportunity to meet with U.S. Surgeon General Jerome Adams, MD, ahead of his keynote address to APTA leadership.
During his keynote, Dr. Adams addressed the challenges of the opioid epidemic.  He noted that he and his office are strong supporters of alternatives to opioids such as physical therapy which centers on movement, hands-on care, and patient education. Prior to his appointment to US Surgeon General, Dr. Adams served as the Indiana State Health Commissioner from 2014–2017.
The following faculty participated in the meeting:
Education Sessions
Anne Mejia-Downs, associate professor: "Prevention and Health Promotion for Populations: Fueling Your Efforts with Data"
Stephanie Kelly, College of Health Sciences dean: "Developing and Implementing Your Teaching Philosophy for Quality Instruction"
Paul Salamh, assistant professor: "Quantifying Noncognitive Traits of Learners in a Holistic Admissions Review"
Poster Presentations
Stephanie Combs-Miller, associate professor and CHS director of research, and Elizabeth Moore, assistant professor: "Physiological complexity of gait over the first six months post stroke." Student presenter: Tiffany Wong (OT).
Paul Salamh: "Implementation of Duke Doctor of Physical Therapy Faculty Development Residency"
UIndy DPT students Renee Enz, Sarah Jarrett, and Lindsay Aberle: "Exploring the lived experiences of first-year Doctor of Physical Therapy students studying gross anatomy: a prospective, mixed methods study"
Connie Fiems, assistant professor: "A qualitative study of physical therapists' views on specialty certifications in brain injury: Novice and experienced clinician attitudes and beliefs." Student presenters: Katie Shew, Brian Wong.
Ed Jones, assistant professor, and Emily Slaven, associate professor: "Short-term functional and gait impairments persist for 6 months following subtotal plantar fasciotomy"
Stephanie Combs-Miller, associate professor, and Nathan Eckert, assistant professor: "Activities and cognition improve after three months of boxing for people with Parkinson disease: A preliminary analysis." Student presenters: Caitlin DuVall, Mackenzie Garreth, Kaitlyn George, Sophia Gerber.