Roche Academy at the University of Indianapolis announces first cohort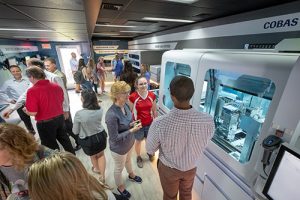 The University of Indianapolis and Roche Diagnostics, the world leader in in vitro diagnostics, are partnering to solve the talent pipeline for biomedical equipment technicians. The first Roche Academy cohort brings together eight students from Indiana, Illinois and Kentucky who will begin the program in the 2019-20 academic year. Established in 2018, the program is an innovative partnership that provides real-world training for biology and chemistry majors to create industry-ready graduates for high-demand positions with Roche Diagnostics.

The Roche Academy offers a customized curriculum and summer internship experience focused on the hands-on life science and engineering skills necessary to succeed in a career with Roche. Students will receive training and skill-building opportunities, professional development, an internship and a full-time position at Roche upon successful completion of the program. Graduates will serve a critical need to Roche's operations as they maintain lab equipment and provide customer service across the United States.
"The Roche Academy is critical to our business. These career-ready graduates will not only bring fresh ideas to our organization but will also be mentored by tenured Roche employees to supplement our workforce with highly-skilled talent," explained Russ Fellows, Roche Academy project leader.
Debra Feakes, dean of the Shaheen College of Arts & Sciences, said the model sets a new standard for university partnerships with industry leaders to onboard fully trained employees.

"Roche has been a fantastic collaborative partner as University of Indianapolis faculty identified a curriculum that will position students to excel in the classroom and in the field. The University is thrilled to offer students this unique opportunity to develop a career path and apply new skills in a professional setting with built-in mentorship," said Debra Feakes, dean of the Shaheen College of Arts & Sciences.

The first cohort of students will complete a paid internship at Roche the summer of 2019 before gaining full employment at Roche in 2020. The Academy is expected to produce up top 20 biomedical equipment technicians for Roche annually.
The first cohort includes:

Brad Moon '20 (biology major, chemistry minor); East Moline, Ill.
Megan Briley '20 (chemistry); Martinsville, Ind.
Will Durchholz '20 (chemistry); Evansville, Ind.
Michaela Heil '20 (chemistry major, criminal justice minor); Indianapolis, Ind.
Kiley Kenekham '20 (chemistry major, biology minor); Brownsville, Ind.
Michael "Blake" Chitwood '20 (chemistry); Greenwood, Ind.
Jeffrey "Jack" Kuerzi '20 (chemistry); Louisville, Kentucky
Victor Inglima '20 (biology and chemistry dual major); Brownsburg, Ind.