Randall Horton to read at University of Indianapolis Kellogg Writers Series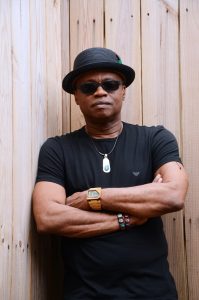 Award-winning memoirist and poet Randall Horton will read from his work as part of the University of Indianapolis's Kellogg Writers Series. The free event is open to the public and will be held at the University of Indianapolis campus on Wednesday, Feb. 20 at 7:30 p.m. in Schwitzer Student Center in UIndy Hall A.
Horton is the recipient of the Gwendolyn Brooks Poetry Award, the Bea Gonzalez Poetry Award, a National Endowment of the Arts Fellowship in Literature, and is a Washington DC slam poetry champion. An associate professor of English at the University of New Haven, Horton is also a fellow of Cave Canem and a member of both the Affrilachian Poets and the experimental performance group, "Heroes are Gang Leaders."
"One of the things that I find satisfying when performing on college campuses is the engagement with the student body," Horton said. "I also love the question-and-answer portion of the programming which allows for an equal exchange in terms of dialogue."
Horton, a past reader at the Indianapolis Etheridge Knight Festival, also has a personal connection to the city.
"I am excited about coming to Indianapolis," Horton said. "I came to Indy in 2011 for my fraternity's (Kappa Alpha Psi) 100-year celebration, and loved it."
Plans for the event started over a year ago when Kellogg Writers Series co-chair Barney Haney and University of Indianapolis Black Student Association co-advisor D'ana Downing began collaborating. BSA was asked to choose an author to visit campus and Horton was their top choice.
"Members were asked to research his unique background—how he overcame systemic challenges and seized multiple opportunities for growth and success," Downing said. "The Executive Board believed that his story was one that the student body needed to hear. This is the first BSA/KWS collaboration, and we are hopeful that there will be more opportunities in the future to work together."
Haney said the BSA partnership has been very rewarding.
"Art unites us in deep and meaningful ways," Haney said. "The Black Student Association's choice of Randall Horton is so exciting. The Kellogg Writers Series is reaching out and listening carefully to create amazing opportunities that connect students and the broader Indianapolis community."
Written by Zoe Berg '19 (communication major, English minor).