Free gardening classes through June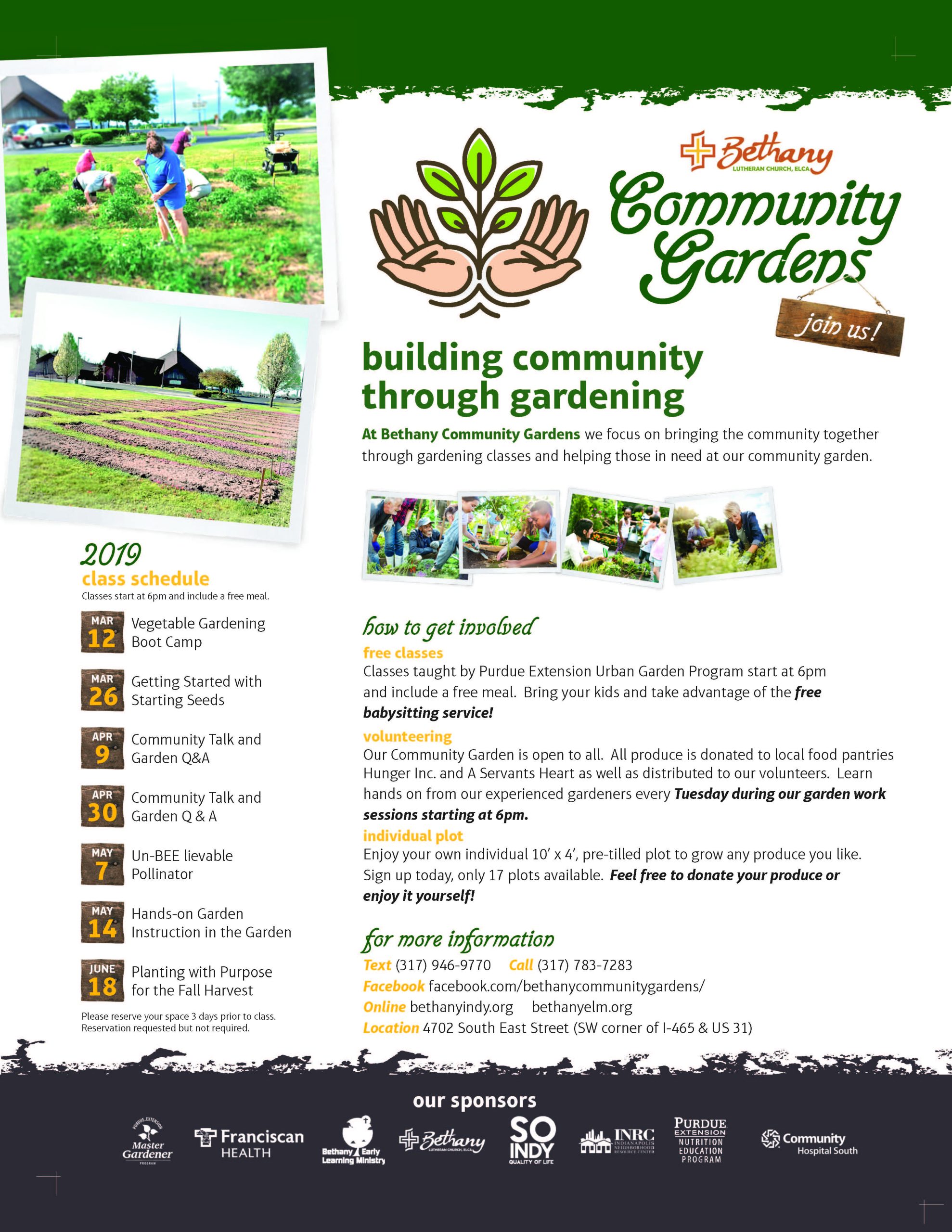 Bethany Community Gardens is ready for 2019! If you are interested in gardening but don't have the know-how or land to do it, or if you are a gardening pro and would like to network with other gardeners on Indy's Southside, Bethany Community Gardens has something for you!
Bethany Community Gardens is hosting a FREE Gardening Class series on Indy's Southside, taught by the Purdue Extension Urban Garden Program Manager, Ginny Roberts. All are welcome to come and enhance their gardening knowledge. This will be the second year for the very popular gardening class series. New topics are on the schedule for this season. Come to one, come to all!
MARCH 12: Vegetable Gardening Boot Camp
MARCH 26: Getting Started with Starting Seeds
APRIL 9: Community Talk and Garden Q & A
APRIL 30: Community Talk and Garden Q & A
MAY 7: Un-BEElievable Pollinator
JUNE 18: Planting with Purpose for the Fall Harvest
Additional classes may also be added throughout the growing season.
Bethany Community Gardens is located at 4702 South East Street (SW corner of I-465 & US 31).
RSVP: https://bit.ly/2RXW8P5
Text (317) 946-9770
Call (317) 783-7283
Facebook.com/bethanycommunitygardens/
Bethany Community Gardens was started to address food insecurity in the South Indy area; to provide gardening instruction on site and to bring neighbors together to build community. In 2018, over 500 pounds of fresh produce were grown on-site and donated to Servant's Heart and Hunger, Inc. food pantries.