First WeatherSTEM unit in Indiana installed at UIndy

When it comes to weather, the forecast in Indianapolis can be pretty unpredictable from one day to the next. A new weather station installed at the University of Indianapolis this week will help meteorologists and the community try to make more sense of incoming weather data.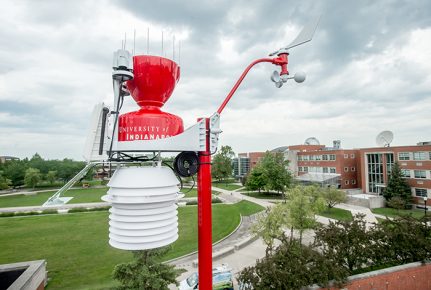 A solar-powered WeatherSTEM unit providing up-to-the-minute weather data on temperature, wind speed, humidity, rainfall, barometric pressure and many other statistics was installed atop the roof of the Schwitzer Student Center in mid-July. The system also has a sensor in the ground to report soil moisture and ground temperature.
The data from the unit is available now on an interactive website, an app, Facebook and Twitter – allowing the UIndy community and general public to monitor the weather near campus and receive alert notifications. The information is available 24 hours a day and will be used by different groups across campus for safety and research purposes.
The WeatherSTEM station is the result of UIndy faculty and student collaborations to bring new technology to monitor and research weather patterns and atmospheric conditions. Recent Earth-Space Science grad Carly Nicholson '17 began discussing the idea of a weather station with associate professor Tim Duman nearly three years ago.
As a student, Nicholson branded her campus weather updates with the phrase "Stay Weather Safe." But it was more than just a tagline. She said, "it's a lifelong devotion to environmental awareness."
This spring, she authored a grant to help find financial support for a WeatherSTEM unit. It didn't take long for UIndy alumnus Bob Green '70 to take action.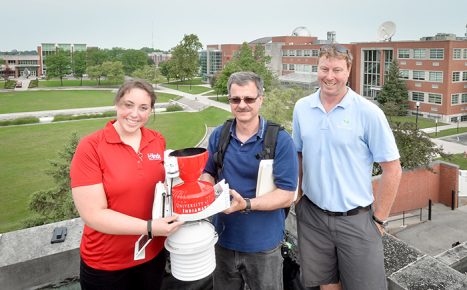 "UIndy is now a hub of meteorological data. The campus and surrounding community have the opportunity to become more intimate with the weather they experience day to day with use of the WeatherSTEM website, app and social media," says Nicholson who is currently pursuing her master's in public affairs and environmental science at IU Bloomington.
Green's gift to support the WeatherSTEM station is in honor and memory of Dr. William Gommel, a professor of Mathematics & Earth-Space Science at the University from 1965 to 1992.
"I have a hunch that Professor Gommel would be pleased to know that one of his favorite topics – meteorology – has an ongoing presence on the UIndy campus in the form of a live weather data system," said UIndy alumnus Bob Green '70.
Members of the community are invited to attend a special dedication ceremony of the WeatherSTEM weather station during Homecoming Weekend on Friday, September 29. Register now.