Sport Management grad student scores job with Pacers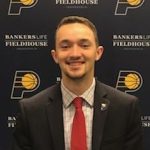 2019 is already an exciting year for Jacob Springer, Master of Sport Management student in the Department of Kinesiology, Health, and Sport Sciences. Not only will he graduate with his classmates this summer, he is starting the new year with a new title: Consumer Sales Executive at the Indiana Pacers.
"I will be working as a sales rep for the Pacers, helping to sell season ticket packages and servicing clients who attend games," said Springer.
Springer has been preparing for this job since he first stepped on campus. After graduating from Indiana University with a major in Sports Marketing and Management and minors in business, law, and marketing, he contemplated his options and chose to enroll in UIndy's sport management master's program "because it was flexible, allowing me to work full-time as an intern and now as a full-time employee," Springer said. "UIndy is near a lot of different sports organizations and allowed me to look for opportunities here in town while I was in grad school."
Not only is Indianapolis a great location for the sports industry, UIndy offered Springer the chance to work with Dr. Jennifer VanSickle, director of the undergraduate and graduate sport management programs, as a graduate assistant.
"Working with Dr. VanSickle has given me opportunities to branch out and connect with and meet new people that have grown my network."
In fact, Springer's network has expanded to the Indy Sports Business Conference, an event the UIndy sport management program will host at Banker's Life Fieldhouse on April 1. "I have been working closely with (VanSickle) to secure panelists for the event, reach out to potential students and attendees, as well as help secure the event venue and setup," said Springer.
Springer attributes his professional growth and success to the great support he has received from the MSSM program. The best part? "The flexibility and the people I have gotten to network with so far."
UIndy would like to wish Springer – and the Indiana Pacers — the best of luck.
-Written by Olivia Horvath '20 (doctorate of occupational therapy)