UIndy Master of Science in Sport Management program hosts first Indy Sport Business Conference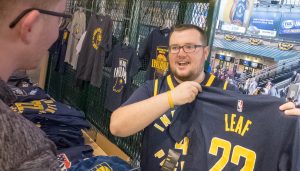 The business of sport is a hot field right now. From college athletics to minor league sports to the top of the professional ranks, well-educated and dedicated people are needed to make America's pastimes happen.
The University of Indianapolis Master of Science in Sport Management (MSSM) program has created the first Indy Sport Business Conference (ISBC), an event that "will help attendees understand what it takes to successfully enter the field and how to prepare for that first job," said Jennifer Van Sickle, University of Indianapolis director of sport management.
The first annual ISBC will be held on April 1, 2019, at Bankers Life Fieldhouse, from 9:30 a.m. to 3:00 p.m.
Van Sickle said the central purpose of the event is to connect current sport management majors with industry professionals to assist in career development and ready them for entrance into the industry.
"Our programming is built around that goal," Van Sickle said.
Students in the UIndy MSSM program worked to outline the conference programming. Logistics are being handled by Van Sickle and MSSM graduate student Jacob Springer.
Conference panelists will include representatives from professional sports, collegiate athletics, and other sport industries. A line-up of speakers will be announced soon. Time for networking is built in after each panel session.
The day also provides an opportunity for students to showcase a project or research completed during the academic year. Those projects can be a starting point for discussion with the sport industry professionals participating in the conference.
The $40 registration fee includes all of the day's educational sessions, a networking lunch, and a tour of Bankers Life Fieldhouse. In addition, the first 50 registrants will receive a free ticket to the Indiana Pacers versus Detroit Pistons game that night. Those who don't register in time for the free tickets can purchase reduced-priced game tickets.
The conference is open to students from any university who are interested in sports business. Registration must be made in advance; no registrations will be taken at the door. The deadline to register is March 20. Register here.
"We are really excited about this opportunity and hope it's the first of many conferences to come," Van Sickle said.
For more information, contact Dr. Van Sickle at jvansickle@uindy.edu or Jacob Springer at jspringer@uindy.edu.