PsyD students present at NYC conference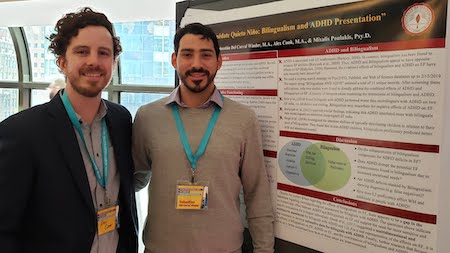 Sebastian Del Corral Winder '18 (Master of Arts) and Alex Cook '14 (Master of Arts) recently presented a poster alongside Assistant Professor of Clinical Psychology Michael Poulakis at the Hispanic Neuropsychological Society Conference in New York City.
The conference emphasized the role of culture in neuropsychological practice and how to bridge the gap in services provided to underserved populations.
The poster that Del Corral Winder and Cook presented was called "Quédate Quieto Niño: Bilingualism and ADHD Presentation." It highlighted the negative effect that ADHD has on executive functions and the positive effects that bilingualism has on attention and working memory. The poster also presented evidence about a significant gap in the literature regarding this interaction and outlined future directions for research and proposed discussion points.
Congratulations to Del Corral Winder and Cook, both of whom are in enrolled in the University of Indianapolis PsyD program!
More news from the Department of Psychology:
Jenny Hodgson '19 receives travel award to present research at Chicago conference