UIndy students engage with past through hands-on fieldwork

From the Texas borderlands to ancient Rome to back home in Indiana, University of Indianapolis students continue to unearth history, gain valuable field experience and make a global impact.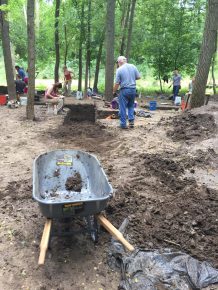 Students participating in the University's archaeological field school spent the summer excavating the Baum's Landing site near Delphi in Carroll County, Ind. The group, working under the guidance of Dr. Christopher Moore, associate professor and chair of anthropology, studied early pioneer life in Indiana.
The field school immerses students in archaeology 40+ hours a week with a focus on excavation techniques as well as teamwork, critical thinking, community outreach and project design. The initiative also connects the community with Indiana history by opening the dig to residents, including local middle school students.
"We hope to develop a better understanding of how the Baums (who lived on the site from approximately 1820 to 1850) and their contemporaries established a new community identity as Hoosiers," Moore said.
A Carroll County native, Moore founded the Wildcat Archaeological Research Project (WARP) in 2009 to investigate archaeology in Carroll County and surrounding areas, including Baum's Landing. Among the goals for the excavation, Moore said, is learning details about the daily life, status and wealth of the pioneer family.

For the students, the experience provides intellectual and professional growth opportunities, including the development of leadership and supervision skills on everything from paperwork to excavation.

"This year's field crew is exceptional. Over the last eight weeks, all of them have grown considerably, both in their knowledge and skills of archaeology and in their confidence," Moore said.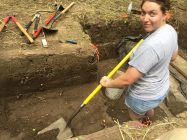 "The experience that I have gained from this project has helped me with my personal growth and my development as an archaeologist," said archaeology student Kaylee Blum '19, who has participated in several student digs. "There's so much more to archaeology than I anticipated, but my time at UIndy has definitely been worth it. The hands-on experience that I have gained just as an undergraduate has been amazing beyond words."
UIndy students can take part in numerous volunteer archaeological lab and field experiences starting in their freshman year, and applied, hands-on training is integrated into many archeology and anthropology courses. A public field archaeology event will be held at Skiles Test park in Indianapolis Sept. 16-17 and an archaeological field school is planned for next summer on Sapelo Island, Georgia.

"Students can get exposed to the challenges of real-world situations alongside the ideal scenarios that they read about in textbooks. This means that most students have some basic understanding of and practical skills in archaeological fieldwork before they start field school," Moore added.
Global impact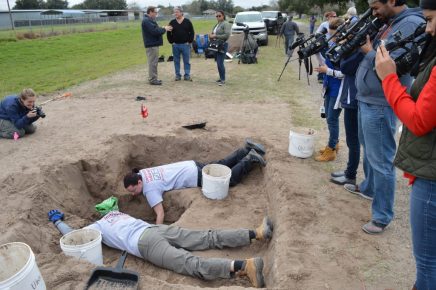 Along with that real-life experience comes the opportunity to witness the community impact. Krista Latham, associate professor of biology and anthropology, leads a student forensic team comprised of biology majors on projects including the identification of individuals who died in the Texas borderlands, as well as assisting law enforcement during local crime scene investigations.
Latham's work has gained national attention to the humanitarian crisis happening on the U.S. southern border. (Read more about the project here.) Latham and her team work to uncover remains from unmarked grave sites and identify the bodies of those who have died while making the journey to the United States. This year, four graduate students traveled to Texas with Latham to participate in the project, marking the sixth trip.

Graduate student Leann Rizor '18 (human biology with focus in forensic anthropology) said the fieldwork has helped her to gain an appreciation of the magnitude of the crisis.

"I learned so much regarding the intricacies of the politics surrounding the crisis, and I have used this knowledge to talk about the crisis in a very informed way and to spread awareness," said Rizor, who earned her bachelor's degree in anthropology from the University in 2014.
International research opportunities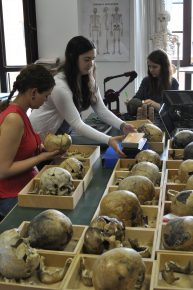 Research opportunities for UIndy students extend to the international arena. Chris Schmidt, professor of anthropology, worked with two UIndy graduate students in Italy this summer on his study of Herculaneum, an ancient Roman city destroyed when Mt. Vesuvius erupted in the year A.D. 79. Schmidt has been conducting research for several years at the site, focusing on what inhabitants ate, their ancestry and the way they died.

Schmidt was honored earlier this year with the 2017 Indiana Archaeology Award, along with Johnson County Commissioner Brian Baird and Johnson County attorney Kathleen Hash, for leading the Middle of the Road Grave project, which involved several UIndy students – including some graduate alumni who returned to participate. The goal of the project was to record, recover and reinter the seven individuals who were buried in the median of County Road 400 South.
"It is definitely a case where one person is being acknowledged for the others," Schmidt said of the award. "It's an award for the process and UIndy should be proud of that high level of professionalism."

The site's role in local folklore and regional history generated strong media interest, creating additional pressure on the excavation team. Nancy Kerlin Barnett and six others were buried at the site, which bears a historic marker commemorating their lives. While the topic of dealing with human remains is a sensitive one, Schmidt said by the end of the project, researchers had gained the respect of local residents.

"It was the best excavation experience I've ever had as a professional and working with the students, the state, the county and the museum," he said.  "People know they can count on us to do it right."
Written by Sara Galer, Senior Communications Specialist, University of Indianapolis. Contact newsdesk@UIndy.edu with your campus news.