New music series establishes UIndy as classical guitar hub

A new classical guitar series at the University of Indianapolis is connecting Department of Music students and the local community with world-renowned guitarists. With masterclasses and on-campus performances, the series is carefully designed to bring students together with master musicians who provide one-on-one coaching and mentoring, while expanding access for music aficionados.

Nemanja Ostojić, associate adjunct professor of music, started the classical guitar series in part as preparation for the Guitar Foundation of America's 2020 convention at the University of Indianapolis. The University was chosen in the summer of 2017 to host the event, which is considered to be the largest guitar festival in the world. More than 1,000 participants are expected to attend the festival, which will be held June 22-27, 2020.

"We're trying to engage the community and prepare the groundwork for the festival," said Ostojić. "The festival will be packed with guitarists from all over the world. This is a great opportunity for students, faculty and the local community to get involved. In return, UIndy will receive global exposure in leading guitar magazines and publications that cover the event, simultaneously placing our campus and our city on the world map of guitar."

The GFA 2020 convention is just one example of the Department of Music's commitment to networking students with expert musicians, whether they be faculty or guest artists. Ostojić has organized trips for students to participate in the annual Guitar Art Festival in Belgrade, Serbia, and plans to return in March 2019.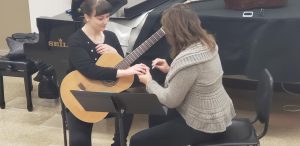 Ostojić also is organizing on-campus visits from classical guitarists, including Martha Masters, who held a masterclass and concert in fall 2018, and Andrew Zohn, who performs April 18 at the Ruth Lilly Performance Hall in the Christel DeHaan Fine Arts Center. Plans are in the works to bring the Texas Guitar Quartet to campus for a November 24, 2019 performance. That educational component is crucial, according to Ostojić.

"My goal is to expose students to high-level performance and personal instruction from renowned artists," he said.

Follow the UIndy guitar program on Facebook.

Students participate in a two-hour masterclass with the guest artist, with each student performing for 25 minutes and receiving individualized feedback. Afterward, a question-and-answer session allows the students to ask about technique, repertoire, careers and future plans.
Jamie Johnson '19 (music and psychology double major) was in the class with Martha Masters.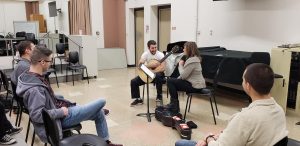 "The value of this experience was enormous," Johnson said. "Just being able to play for her was a great opportunity in itself. Receiving advice and encouragement from her was not only helpful but also inspiring and gave me more motivation to play the guitar."

Johnson, who participated in the XVIII Guitar Art Festival in 2017, added that the experience provided her with a different perspective on how to approach her playing.

"[Martha Masters] gave me helpful information on how to be more relaxed when playing and gave me advice on how to shape my nails to get a better sound," Johnson said.
The classical guitar series is made possible by a generous grant from Jerry Roush, in memory of Nyla Roush. Admission is free. Ostojić hopes that the concerts, which aim to bring a master musician to campus every semester, spark interest throughout the community as the University of Indianapolis prepares for the Guitar Foundation of America's 2020 convention.

"When students experience the thrill of working directly with internationally recognized guitarists, that's going to build on the excitement leading up to the convention next year," he said.

Students also benefit from one-on-one support and mentoring from faculty like Ostojić, who himself is a sought-after soloist and top prizewinner in more than 15 major international guitar competitions around the world.

"Professor Ostojić has helped me a lot along the way with my music studies by always being encouraging and supportive, and especially because he encouraged me to become a music major here at UIndy to begin with," Johnson said.
Written by Sara Galer, communication manager.