University of Indianapolis student honored as Newman Civic Fellow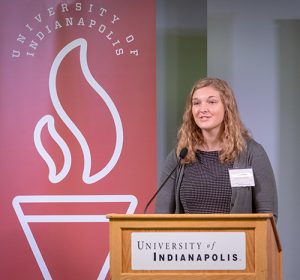 Campus Compact, a Boston-based non-profit organization working to advance the public purposes of higher education, has announced the 262 students who will make up the organization's 2019-2020 cohort of Newman Civic Fellows, including University of Indianapolis student Natalie Benson '19.

Benson, a double major in religion and psychology, plans to pursue a master's degree in divinity at Yale Divinity School in fall 2019. As a student leader with the University's Office of Ecumenical & Interfaith Programs, Benson worked with faculty and students to develop programming that promotes mutual understanding and respect between religious and non-religious groups on campus. She is the student recipient of the 2019 Jerry Israel Interfaith Service Award, which recognizes members of the University of Indianapolis community who display exceptional commitment to service in an interfaith context.

During her four years on campus, Benson co-founded a new student organization, Better Together Interfaith, a student-run group committed to strengthening interfaith service, dialogue and literacy. She serves as a swim coach with local YMCAs and has worked with the Interfaith Youth Core in Chicago to train and mentor student leaders throughout the country.
"I am honored to have been nominated for this opportunity by my university, which has supported and encouraged me as I discovered a calling for civic engagement and public leadership," Benson said.
The Newman Civic Fellowship, named for Campus Compact co-founder Frank Newman, is a one-year experience emphasizing personal, professional and civic growth for students who have demonstrated a capacity for leadership and an investment in solving public problems. The Newman Civic Fellowship is supported by the KPMG Foundation and Newman's Own Foundation. Learn more at compact.org/newman-civic-fellowship.