Elizabeth Weber to read at University of Indianapolis Kellogg Writers Series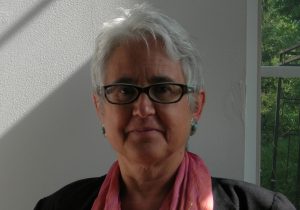 Poet and essayist Elizabeth Weber will read from her work as part of the University of Indianapolis's Kellogg Writers Series. The free event is open to the public and will be held at the University of Indianapolis campus at 7:30 p.m. on Wednesday, March 20, in Schwitzer Student Center's Trustees Dining Room.
Weber taught English at the University of Indianapolis for 23 years, retiring in May 2017. Her contributions to the University include co-founding the Kellogg Writers Series in the winter of 1995 with fellow English professor Bruce Gentry. Her poetry collections include Small Mercies, The Burning House and Porthole Views: Watercolors and Poems, a collaboration with artist Hazel Stoeckeler. Her poem "City Generations" is part of the Indianapolis Cultural Trail and her essays appear in CutBank, Prairie Schooner, The Human Tradition and The Vietnam War, Montana Magazine and Consequence.
Kellogg Writers Series Co-Chair Barney Haney said the event is a celebration of Weber's writing and her dedication to UIndy students and the Indianapolis arts community.
"Her poetry and essays hit a truth that hums," Haney said. "Weber brought her vigor to the classroom and the broader Indianapolis community. Our University and city have come a long way in the arts scene and Weber has made significant contributions to that development."   
"Seeing the successes and growth of students I taught were the main highlights of my time at UIndy," Weber said. "For instance, some creative writing students went on for graduate degrees and studied with friends of mine who gave glowing reports of them."     
Weber looks forward to reconnecting with former UIndy colleagues.
"I've been mostly living in St. Paul, Minnesota, since I retired and haven't spoken to many UIndy comrades," Weber said. "I've been working on a series of poems about my father's decline into dementia and about death. I've also been taking chapters from a manuscript about my brother's death in the Vietnam War and rewriting them to stand alone as essays."
The night will be a symbolic torch-passing for the Kellogg Writers Series.
"What I'm really looking forward to is discovering how those who have taken over the Kellogg Writers Series have developed it since my retirement," Weber said. "From what [KWS Co-Chair] Barney Haney has written to me, I think he has developed it beyond what I was able to do and it fills me with joy to see not only what I started is still continuing, but it is growing and flourishing."
For more information, contact Barney Haney at haneyb@uindy.edu.